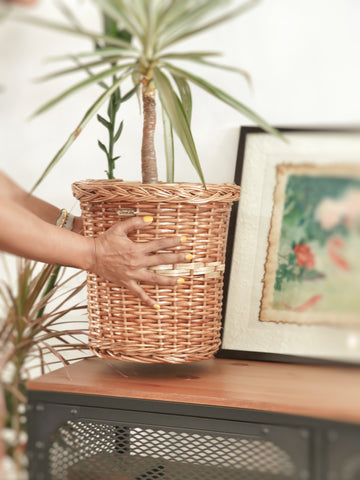 Trust us, it never gets enough. And there's no replacement of a warm vibe created by happy wicker baskets who radiate a certain sunshine around... go ask all the #basketlovers!
These baskets last forever and need very little maintenance. Many of you have asked us how to clean them and here's the best way to take care of them simply!
How to take care of wicker planters?
Willow wicker is one hardy material and the more sun and water it soaks, it gets stronger. Here are a few tips/ list of do's and don'ts to make sure they stay as good as new for years-
Keep inside the house, outside the main door, balcony, terrace away from direct sun or rain.
Putting a pot directly inside the planter is perfectly fine. The slight excess water gets soaked up or runs out through the planter and dries up.
Don't keep the base in mud/ soil. Leaving it wet without cleaning is not recommended
Not for excessive overwatering of plants or for plants that sit in pots with water bases.
Give it a seasonal wash with water, brush, mild soap and leave to dry in direct sunlight. A coat of natural polish after drying will make it as good as new.
4 EASY WAYS OF WICKER CLEANING & CARE
#1
JUST BRUSH IT OFF! 
Wicker is always welcoming... to people, sun, water, and umm, SOMETIMES dust too! (woops) 
Just do this - BRUSH IT OFF. Wicker twines have a slight smoothness to their texture, hence, brushing the dust off is easy peasy. Use good hairy brush and give it a through brushing. Fast and hassle-free!
You can also use a simple cloth to clean the dust more often.
#2
SOAK IT IN WATER
Let us tell you, wicker LOVES water! It has its properties of being water-resistant, and gets stronger when it comes in contact with water.
Soak them for an hour and see the twines come to life all over again! Do it once a year (or as often as you feel like) The water-soak only makes them stronger and more durable!
In case of moisture and mold, brush the nodes and weaves harder and soak it in water again. Wash it off thoroughly and leave it in sun sun to dry completely...which takes us to #3. SUN-DRY
#3
SUN-DRY
Our natural wicker comes from the Willow twines in the valleys. It's 100% natural and is really happy when the sun shines over it! They get free of moisture, and hence from mldd too.
The soaked sun gets a glow to the wicker texture, making it look all alive and happy! The darker the shade means it's tanned that much. So if you like it tanned, keep it in the sun after wash.
#4
CLEAR WOOD POLISH/ WOOD OIL
Wicker looks beautiful as is, like its just woven from the Willow vines. But one can opt for polishing it to save it from molds especially in Monsoon. 
Apply clear wood polish or wood oil to protect the baskets - it keeps the dust off and colour intact.
Also if your aesthetic matches to a slightly glossy texture, well, here it is!
That's all it takes! 
Let us know how its working for you in our comments section below, or if you have a new way to care for the lovely Wicker!
 ______________________
Shop handmade, natural WICKER BASKETS
Shop natural material baskets, bags, home decor for everyday use on www.daisylife.in
Read our latest:
How to take care of bamboo baskets? , 
"PACKED WITH 💚 & CONSCIENCE" & Other blogs from DaisyLife DIARIES 
Follow @daisylife.in on Instagram to join us in this journey of making natural material products a part of our daily life in the new/ changing lifestyles.