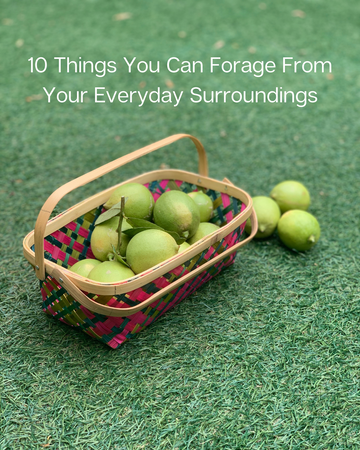 For many centuries we have always been the kind that gathers and tracks down food for a living. A habit of foraging that's a part of us by instinct and has stuck with us. However, this habit or instinct that often gets buried down by the city life seems to spark up whenever we're surrounded by nature. A quirk that remains between people and nature.
Foraging is the act of gathering materials from nature for various purposes such as nourishment, decor, fertilizers, bait etc. Urban foraging is also a new way to explore a city (How urban foraging became the new way to explore a city, National Geographic) and an active way to respond to our innate nature of interacting with nature.  
Gathering what we need from nature and even though you may have grown the sources in your gardens is an enjoyable activity to nourish yourself from everyday surroundings. The calming activity practised in different locations from gardens to the seaside has a therapeutic effect on the human mind.
10 things to forage from your everyday surroundings:
Image source: @cook.it.chic
Here's a list of all the things we love to forage from our surroundings. A few natural resources that can be found almost anywhere or in your garden. 
1. Flowers
Ever since our childhood days, we've loved to collect flowers. For mostly two reasons to show them to our parents or simply because they have a lovely fragrance and look pretty. Our hands could only carry a few small ones and sometimes we'd want to pick up all that we could see. A basket makes this easy! One can even decorate the foraged flowers in a lovely flower basket.
2. Fruits
Back when we were kids most of us would follow grandma to the garden to pick up fruits. They were super juicy and sweet. Foraged fruits can also be gifted and shared with your friends and close ones in a pretty fruit basket. It suits every occasion and leaves a great impression when they find out the fruits were from your garden!
3. Vegetables
Image source: @witch_crafts
We love our veggies, green, leafy and healthy! Vegetables or simple herbs can be grown in your garden or at home and can be foraged. veggies like Peppers, beans, aubergine, carrots etc can be grown and forged in your garden. A simple vegetable basket will help you in keeping these neatly and comes in handy on your foraging trips!
4. Leaves
Image source: @creativitycultivated
We love picking leaves, Since they come in different shapes, colours and sizes. Childhood days were filled with fun when we'd go hunting for pretty leaves and come back home to share them. A display basket with foraged leaves can be used as a centre table decor item. It also adds a calming feel to the surrounding with a sense of nostalgia.
5. Pretty stones
Is it just us or do you have an eye for smooth rocks or the cute ones with different colours too! foraged rocks and painting them for display is always exciting. At times if lucky you'd find rocks with pretty white crystals on them. Keep your lucky rock well in a nice warm wicker basket or display them in a tray to be used as weights or decor.
6. Seeds
Seeds like sunflower seeds, Gulmohar seeds or seeds from a fruit left by animals like squirrels and parrots are a great find. They're in their natural condition where you can dry them and plant them to see and experience the growth of a sapling.
7. Pine cones
Pine cones have a great fragrance which makes us attracted to them. Here's a tip! You can arrange these lovely cones in a simple wicker basket to keep by as a scent in your living space. A basket of pinecones can be kept anywhere from the living room to the washroom accompanied by other scents and a towel.
8. Shells
Since our childhood days, we've been beachcombing... The quirk of searching for shells and conches at the shore so we could hear the sound of the and decorate sandcastles is still afresh in our memory.
9. Unique feathers caught up in branches
When out on a birdwatching trip we sometimes stumble across feathers from beautiful patterned and colourful birds. We'd find feathers that belonged to birds like owls and hawks to feathers from the tiny birds like robins, bulbuls, parrots and other birds of course we'd carry them as a keepsake from the trip that introduced us to the birds.
10. Saplings & Plant Cuttings
Image source: @mybohoaesthetics 
Before getting into the habit of buying plants have you tried foraging for saplings? Foraging for saplings of wildflowers and wild plant life is common these can be spotted even in local areas. Plant cuttings like the twigs of the neem tree or a bark of a tree that's in the process of moulding are also fun to collect, especially twigs with berries and buds on them.
______________
______________