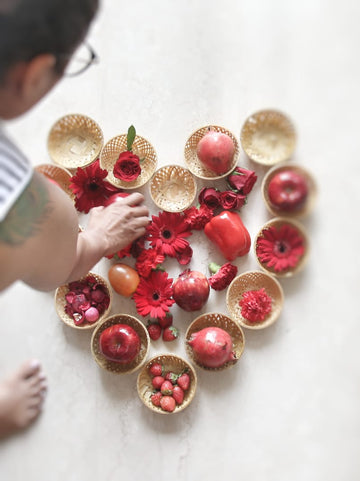 It's 2021. It's been a while that we've been using things made from raw materials that don't draw their source from nature. The most loved/used being plastic, perhaps because it serves us right now, and in every way possible - economically, functionally and aesthetically too. Who doesn't want something that does so for them?
We city-dwellers live in a fast-paced world, and yes, most of us do not have the time to mindfully deconstruct and be aware of everything we use, touch, see and feel. But the fact is, it does have an impact on us. 
Do you relate to something called 'weekend getaways'? 
When did this become a thing? The whole ' I need a break' scenario is very recent as far as we have generally observed. We occasionally love to go stay at a farmhouse, a lakehouse, camping in the woods and relaxing in shacks on the seashore. 
How loved is a window view that shows you the serene sea, breathtaking mountains or simply a beautiful, clean swathe of blue skies! The sense of calm, grounding energy and warmth that nature gives us in these weekend getaways is short-lived. As short as a weekend! 
Cities are full of other pretty things, but not enough of this.
We need a touch of nature, every now and then, because we are an integral part of it. Rather we ARE nature. Have you heard of Biophilia Hypothesis? 
Nature needs to be a part of our everydays. We've stopped caring much about it because we've gradually lost the daily interaction with nature. A few decades back, didn't we use a lot more natural materials? Those wooden utensils, a lot of cane/ wicker baskets, coconut shell products, bamboo mats and other natural materials in our daily life. 
'Weekend getaways' were a little rare back then weren't they? We didn't 'long' for nature as much then, like we do now. Our sensories now are fed by synthetic materials, which is not familiar to our skins. They don't feel a part of us, and maybe that is why we long to go back to the trees, the sea, the mountains...
This is LOVE... where we feel, we belong. Then why is it not a part of our life a bit more?     
These simple elements of nature carry their calming, grounding energies into our daily living to keep us connected to the core adding an overall sense of well being. This is LOVE. A slight glimpse of the mountains and woods everyday. Inculcating them into the chores can make us feel nature's love every single day. 
When something becomes part of our daily rituals and routines... when it serves to add value to our life... that's when the care and affection blooms and that's when we put energy into it. Energy to keep it alive and around us forever. This is LOVE. 
Read more on : NATURE LOVES YOU & Other blogs from DaisyLife DIARIES
______________
Follow @daisylife.in Instagram to see more of natural material products for daily use.
Shop natural material baskets, bags, home decor for everyday use on www.daisylife.in