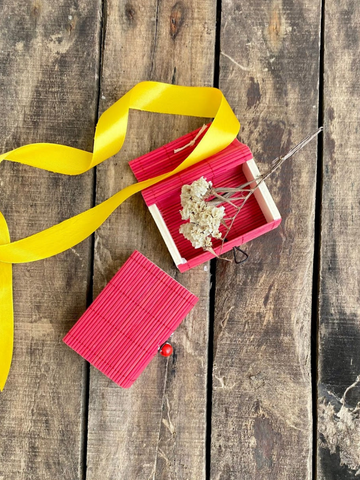 Sustainable gift packaging isn't just a trend; it's a heartfelt commitment to our planet and the joy of giving. In a world where every choice counts, expressing love and appreciation through beautifully crafted, eco-friendly wrapping has never been more meaningful. At DaisyLife, we understand the emotional connection behind each gift and have curated a list of sustainable gift-wrapping ideas for all occasions that will make them extra special!
Birthdays: Celebrating a year around the planet, with the planet!
Imagine your loved one's eyes lighting up as they unwrap a gift nestled in a bamboo or cane box on their birthday. They are not just touched by the thoughtful gift inside but also by the effort you have put into wrapping it to their liking. Available in multiple sizes, colours, and designs, you will surely find a gift box that matches their aesthetic- Reflecting the care you hold in your heart for the recipient.
Anniversaries: Weaving togetherness with timeless packaging
An anniversary isn't just a day on the calendar; it's a testament to enduring love. Our wicker gift baskets symbolise the weaving of two lives into one beautiful journey. With each carefully chosen item you place within, the basket grows not only in gifts but also in significance. It's a reminder that your bond is as unique and timeless as the handwoven fibres holding your presents. What's more? There are endless ways to personalise these baskets. Add ribbons, flowers, fabrics, or sparkles- The possibilities are limitless, just like the love you share for one another!
Weddings: Love-laced and nature-first promises
As two souls unite, your gift symbolises your blessings and hopes for the newlyweds. Our sustainable envelopes, gift bags, and covers are made from earth-friendly materials and are like the promises exchanged on that special day- Truly meaningful. Each of these sustainable gift packaging options, laced with your wishes and love, symbolises commitment- Between the couple and towards a greener future.
Diwali: Celebrate culture with nature
The festival of Diwali is full of traditional warmth. Our bamboo and cane baskets pay homage to this cultural richness. Opting for sustainable gift packaging with these materials is an expression of love for this heritage and a dedication to preserving the planet for generations to come. From chaklis and laddoos to other hand-picked items, add all your Diwali special goodies to these baskets and turn them into a gorgeous hamper! It's a gesture that lights up hearts and the path to a sustainable future as well.
Christmas: Santa's bag is sustainable!
Christmas is all about celebrations and giving back. How about choosing sustainable gift packaging to wrap your handpicked gifts and extending the holiday cheer to the planet as well? Our bamboo, cane, and wicker baskets align with the rustic charm of the season with perfection. From chocolates and cakes to other items on your recipient's wishlist, these baskets come in different shapes and sizes, making for the perfect sustainable Santa bag!
Loved these sustainable gift-wrapping ideas for all occasions? Give them a try! At DaisyLife, we have curated a wide range of planet-friendly wrapping options that will add an effortless, all-natural element of charm and aesthetic to your gifts. Moreover, you also give the recipient the joy of reusing these pieces to their liking, all the while caring for the planet.