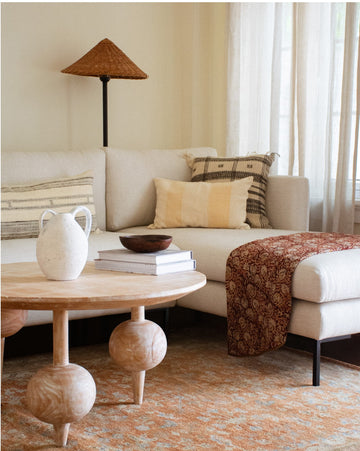 Picture this: You walk into your living room after a long day at work, your living area feels cozy but something's missing. You go about your usual routine of unwinding after work but somewhere at the back of your mind, you are searching for that missing piece of the puzzle that will infuse your space with character and a touch of nature's magic. Look no further! In this blog, we'll explore how you can elevate your home's ambiance with all-natural home decor. Get ready to take a sneak peek into the multiverse of customization, as we delve into the story of 'Anh' x Divya @Studio_mehrr .
Embracing the Serenity of natural raw materials:
With its elegant simplicity and eco-friendly nature, cane is the perfect material to add a unique earthy touch to your home. Whether you're going for a rustic vibe or a modern chic look, cane effortlessly blends with any style, infusing your space with a sense of calm and tranquility. Imagine having the power to shape and design your own home decor pieces. That's the beauty of customizable cane products. Just like nature continually adapts to life around humans, we too feel the innate need to be able to incorporate it into our spaces. This is where our customizations come into play.
Anh Wicker Lampshade: A Story of Longing for Nature
Meet Divya Chadha, an interior designer with a desire to bring warmth into her clients' homes. Divya  understood that creating a space with character required more than just a mix of furniture and colors. It needed a touch of organic beauty. With the idea of a quirky cane lampshade she got in touch with us to custom make one for her project. After a while we made something for her not knowing that this beautiful lampshade will not blend-in but stand out in the most elegant way.
Lampshades that Illuminate the Soul:
One of Divya's favorite pieces in this project became the customizable cane lampshade. Handcrafted with love and care, this lampshade adds a soft, inviting glow to any room. Divya found that this lampshade could evoke a sense of wonder and harmony within her client's home. Each piece in this project told a story, reflecting the unique personality of the homeowner and creating a space that truly felt like their own.
Here's what she had to say about our products- 
'The Greenwood Home is a 3,000 square-foot villa with classic European undertones on the outside, earthy and functional aesthetics on the inside. Nestled in the heart of Gurgaon overlooking a canopy of Gulmohar trees, with a brick facade, tall white French windows and a Parisian green door, the house flawlessly marries vintage with modern minimalism.

Sticking to the trend of 'quiet luxury' and beige interiors, we added a slight twist to this timeless style with a few vintage elements. The intent was to balance and add character through dark wood tones and natural materials like cane. For example, the cane floor lamp, a commissioned piece from Daisy Life, adds character to the room and a captivating focal point in the space.'
In a fast-paced world where the boundaries between our organic roots and urban living blur, there is a deep yearning to reconnect with the earth. By incorporating all-natural home decor into our living spaces, we bridge that gap. We invite it to weave its tapestry into our homes, reminding us of the peace and harmony found in the great outdoors.
Customizable home decor allows us to infuse nature into our living spaces. We understand the power of bringing nature's warmth into your homes. We too can embrace the beauty of natural raw materials like cane, wicker, bamboo. So, go ahead, unleash your creativity, and create a space that truly reflects your soul. Let the alluring charm of DaisyLife's customizable cane home decor illuminate your space and inspire a longing for nature's embrace.