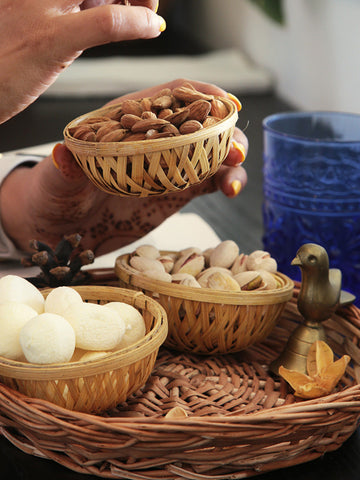 Diwali celebrations are all about lights, laughter, and people. This year, how about also adding our planet to the equation?
As you revel in the festivities, bring in the beauty of natural decor to your preparations. It's as simple as making a few small switches and additions- Here are a few ideas you can use to lighten up your celebrations, loved ones' faces, and the planet too!
All-natural baskets for almost everything
Imagine the rustic charm of all-natural baskets sprucing up your home during Diwali. Picture them filled with flowers, sweets, snacks, and other cute decor items as you welcome the festivities. These baskets, woven with love and sustainability in mind, are laced with tradition and will make for great and unique Diwali decorations. At DaisyLife, you can choose from a variety of basket sizes and styles, so we are sure you will find one that perfectly matches your aesthetic and requirements!
All-natural lamp shades that shine bright
Diwali celebrations are incomplete without good lighting. Opt for eco-friendly lampshades made from sustainable materials like bamboo and cane. These cuties not only illuminate your space in a warm and inviting glow but also contribute to a sustainable environment. Consider placing them strategically around your home to create a cosy and festive atmosphere, ensuring your Diwali is as environmentally conscious as it is beautiful. The best part? You can also create a DIY sky lantern using our bamboo lampshades!
Planters for a dose of freshness
Most of us deep-clean our spaces before Diwali. How about making this exercise better and transforming the look and feel of your home with just a small addition? Invest in planters made using bamboo or wicker this festive season and add a fresh, timeless dose of natural decor to your homes. You can also place your earthen lamps around these planters to make your decor look more put-together and thematic to Diwali.
Gifts wrapped in nature
Diwali is a time for exchanging gifts, and what better way to present them than with all-natural packaging? Opt for gift boxes, envelopes, and gift baskets made from eco-friendly and reusable materials such as bamboo or jute. Simply place all your Diwali goodies in these reusable packaging and their natural beauty will take care of the rest! You can also add some twines, flowers, or ribbons on top to make the gifts extra special. Such an easy and unique way to express your love and appreciation towards someone, don't you think?
Diwali celebrations made better with nature
As you make the most of your Diwali celebrations, we hope that you make these simple, nature-driven additions and switches. Natural decor doesn't just look great but also adds the grandeur of nature's beauty and abundance to your home. It transforms spaces, in the most surprising ways. And most of all, it lights up the hearts and souls of everyone and everything it interacts with- Very much in theme with Diwali, don't you think?