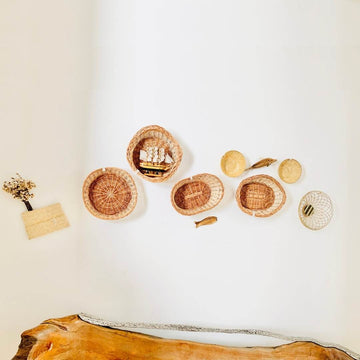 The living room is a space dedicated to gatherings and blissful conversations complimented by decorative decor. Adding cues that spark visual interest is important as they enhance the beauty of the space and act as conversation starters. So why not add some decorative decor to it and spruce it up? 
If you're a connoisseur of all things decor or just someone who wishes to get a few ideas for their living room, this blog is for you. Today let's explore a few home decor and accessories that will effortlessly elevate your living room's look & might inspire you to spin things around.
Decorative decor for your living room: 
#1 The Joey Wicker Basket: Do you sometimes imagine yourself as a decor influencer? This basket gives you the opportunity to declutter your dining table, just like they do online. Use it as storage for your dining table or to add a woody look to your windowsill. Take it with you on an idyllic picnic or add a touch of natural beauty to your space by filling it with lush green plants. This aesthetically pleasing decorative decor piece also doubles as a functional book caddy, perfectly suited for organizing your collection of coffee table books.
#2 Wicker Planter Baskets: Talking about home decor and accessories, planter baskets have been a best-selling item at DaisyLife.These home decor and accessories baskets have so much potential to be anything you need them to be. These are multipurpose decorative decor & can be used as extra storage or simply as planters for your gorgeous indoor plants. You could also convert them into a toy storage basket for your child.
#3 Moon Wicker Basket: The enchanting, wholesome shape of this wicker basket feels like a gift from nature, owing to its eye-catching appearance while fulfilling your storage needs. Do you sometimes need additional storage near your door, to keep your keys in? This beautiful moon basket is just the thing you need to add to your home decor and accessories. Hang it behind your door or place it above your shoe cabinet. Bring a bit of flair by adding some potpourri in it and placing it on a table. It will easily hold your keys & other items that you might need just before you leave the house.
#4 Forest Wall Baskets: Is your aesthetic all about the wild outdoors? Do you always crave to be around nature? Bring home the feeling of the forest with this forest wall basket decor. This decorative decor is what you have been looking for. It pairs beautifully with any wall colour and will make for a splendid addition to your living room decor. If you wish to add a rustic feel to your living room these curated home decor and accessories are a good option.
#5 Waves Wall Decor: The ocean is one of the most powerful forces of nature, the very thought of which ironically brings a feeling of calmness to one's mind. This particular decorative decor brings to your living room the ocean. Giving you the feeling of sitting beachside with your favourite book in hand just watching time pass by, who doesn't wish for a life like this? The artistic bamboo fish and gorgeous ship make these home decor and accessories the perfect quirky decorative decor for your living room, while also adding a sense of serenity to your space. 
#6 Bamboo Ring Curtain: Another great way to add some flair to your living space is this bamboo ring curtain decorative decor. Add them to your windows to give your home a cabin-in-the-woods feel. You could also use them as a quirky curtain wall hanging. DIY them and make them colourful to add a pop of colour. The possibilities with this decorative decor are truly endless. 
#7 Bamboo Wall Hooks: Have you noticed how bulky most wall hooks are? This one is a little different. It is sleek, sturdy & with a little creativity, it can be customised according to your living room's aesthetic. It can hold your keys, umbrellas, and scarves easily. This home decor and accessories are minimal and chic and will add some extra oomph to your living space.
Imagine doing up your house and being able to tie in a theme you have been wanting to showcase for the longest time. Finding just the right piece for your space and making it look comfortable & chic all at once. This is no less than art and you are an artist. So curate your living room however you please- DaisyLife is here to support you with everything we can offer. 
A little gift from us, shop today from our website to avail a 10% off discount on your first order.