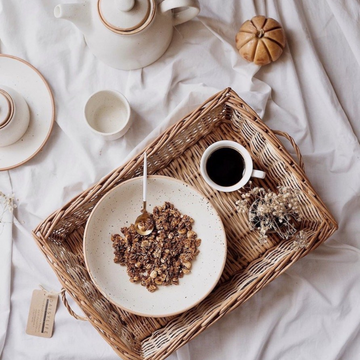 Due to the hectic pace of modern life, homeowners are more conscious of their decorating decisions and want to find a middle ground between streamlined minimalist and opulent luxury, especially when considering kitchen designs.
For creating minimalist home decor, having minimalist kitchen design becomes an integral part to enhance the decor. The idea behind minimalist kitchens is to clear this multipurpose room of extraneous clutter. It also involves utilising the magic of a "clean" environment with only a small number of special, valued possessions that bring happiness and utility. A more practical, efficient, and ecological manner of living is at the core of this design concept.
Simple kitchen designs are available in abundance when searching online, and whenever it concerns interior styling and kitchen design, less is frequently more. Among so many options, we have brought to you the most amazing kitchen design ideas.
Tips for minimalist kitchen ideas 
Looking for some tips for simple kitchen designs? Then, you can try out these tips for not only making your kitchen space visually more attractive, but for also creating a space that boosts productivity. 
Consider layout and flow
Appealing homes benefit from minimalist kitchens because they don't compete with other spaces. You can keep your layout as simple as you can. Make the most use of cabinetries to avoid any extra storage organizers, this makes the space look lighter. If you have a large kitchen, then you can include a round table, drop-leaf table in the centre or at corner to create a unique style.
Choose natural materials
Natural materials with distinctive hues and textures, like marble, are frequently used in minimalist kitchens because it helps to bring the opulence to your space, along side these materials are hard, resistant to any damages. Marble also provides a distinctive, patterned backdrop for your aesthetic cabinets and the exposed dinnerware in the modern kitchen. Combine with modest cabinetry to create a debonair aesthetic with a modern twist. 
Use bamboo baskets as storage containers
Bamboo baskets can be used to store fruits, vegetables, or other kitchen items. The natural texture of the baskets adds a rustic and warm touch to the space.
Stick to a defined colour palette 
A kitchen's mood may be radically changed by adding colour, and the amount of colour you add will determine which areas of the space you are drawn to. Even though a minimalist kitchen need not be monochromatic, sticking with a few hues will help the room feel more cohesive. To finish the appearance, layer in just a few accent colours in small doses.
Match countertop with backsplash
One material covering both surfaces results in a minimalist appearance as well as seamlessness that gives the impression that both surfaces are larger. Additionally, in a small kitchen, a similar kind of material is frequently big enough to make both surfaces, preventing the need for needless off-cuts.
Use bamboo or cane for kitchen accessories:
Bamboo or cane accessories like cutting boards, utensil holders, and bread baskets can add natural texture to the kitchen while also being practical and functional.
Install small interior organisers
Utilising contemporary organisational technology to make the best use of your storage in a small kitchen is extremely crucial. A lazy Susan and perhaps other organisational tools can make a corner cabinet or any other difficult-to-reach spot slightly more accessible, but fully extending shelves, like the rail shelves, are even better at letting you access every item inside a cabinet.
Mix deep and standard upper cabinets
Build the cabinets all the way to the ceiling if you have the vertical space, using a combination of counter-depth uppers just above the counter and regular 12- to 16-inch uppers over those. You have a breathing area at the elbow and eye level, as well as some additional depth to store bulky or seasonal goods. Just make sure there is a step ladder handy so you can safely retrieve goods from the topmost cabinets without jeopardising your health by climbing onto countertops and islands.
Hanging on the wall
Instead of using traditional shelves, you can hang bamboo baskets on the wall to create a unique and stylish storage solution. This also frees up countertop and cabinet space.
Opt for concealed storage over open shelves 
In order to make your kitchen organised, storage is a need. Concealed storage is always a better option than open shelves because it protects your accessories or items from dust. It also minimises the visual clutter in the space. Try grouping, simplifying, or rearranging goods to establish a kitchen layout that works for you if storage is a problem.
Use of ceiling lights
Although pendants can be a great complement to a kitchen, simple, non-protruding ceiling lights are much more likely to work well in minimalist kitchens. This gives the area a modern, architectural appearance while still maintaining clear sightlines that make the space appear larger and less crowded.
Decorative planting plots
To create a modern and sophisticated look, consider mixing bamboo or cane plots with other materials like metal or ceramic. This creates a contrast between the natural texture of the bamboo and the sleekness of the other materials.
Add colour and texture 
Kitchens that are sleek and minimal serve as the perfect canvas for accessories. You can add colour and texture to your kitchen in the form of colourful and textured kitchen cabinets, vases, etc. You can also add colour and texture to your kitchen by incorporating wall tiles. There are many tile options ranging from texture design tiles to plain tiles. You can also experiment with contrasting colour tiles by selecting different colour tiles for your walls and floors.
Include under-cabinet lighting
Wondering how to design a kitchen with under-cabinet lighting? Incorporating under-cabinet lighting offers your room a contemporary, almost mystical glow while assisting in making the space appear a little more spacious and open, whether you have numerous cabinets packed in like in the solid molecular structure or not.
The additional brightness will reduce the feeling of being crammed in when you're preparing food or cooking and will brighten your work table for more comfort and safety.
Modern design and simplicity are embraced in minimalist kitchens. These simplified designs, which stand out for their sharp edges and smooth surfaces, do possess a lot of personalities. Use these simple kitchen designs to create a chic and useful cooking area.