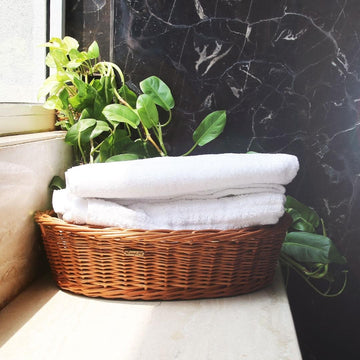 During the summer we spend most of our time inside the house and we have the perfect bamboo accessories for you. You could stir up some DIY ideas and bring home some bamboo and cane accessories to liven up your homes, or you could indulge in these handmade pieces made of natural materials that will look gorgeous in any space. Summer is all about the freshness that comes with the heat. A time to indulge in home improvement projects & making memories with your family. The best time to explore everything nature has in store for you & your family, even if it means spending most of your time at home, away from the harsh heat outside. 
Made of entirely natural materials & 100% biodegradable products, these pieces will surely fit into your homes without a hassle. So let's get those ideas whirring inside your mind and look at a few DaisyLife pieces that might just strike some inspiration. 
Here are 5 items made of all-natural materials that could be part of your summer aesthetic: 
#1 Oval Basket: Imagine getting this gorgeous oval basket to help you store your clothes or to use it as a towel holder in your bathroom. How about using it as a snack or tea & coffee caddy in your kitchen? This gorgeous basket is made of all-natural materials and will suit your storage needs wherever placed. This basket adds an earthy look that will suit your home this summer. 
#2 Storage Basket: These types of bamboo accessories are more than just storage. They are part of your daily routine. Maybe you could store your toddler's or pet's toys in these baskets. Perhaps you use them to store your kitchen's dry ingredients in them. These baskets are durable and will last a lifetime. This is solely because they are made from natural materials that are minimally processed. Add them to any corner of your home, and maybe paint them to match the decor in your house. 
#3 Barney Planter: Adding plants to your rooms will keep your home looking fresh and help you beat the heat. Plant your favourite greens in these unique planter baskets made from natural materials, which will add a woody touch to your space and make it more lively. The greener the space, the more it will help you tackle the exhaustion that the summer heat brings. 
#4 Bamboo Accessories Spoons Set: Why worry about your spoons adding microplastics to your food? These spoons made from durable & top quality natural materials, will never cause you or your family harm. Use them and protect your family from being exposed to harmful chemicals & microplastics in your food. They will also add an earthy feel to your kitchen. This could double up as a cute DIY project for your children as well, have them paint little animals on the handles, so every time you cook for them you will be reminded of that one summer afternoon. 
#5 Wooden Ship: If you are someone who loves adding collectibles to every corner of your home, these bamboo accessories made of 100% natural materials will furnish your mantle amazingly & give your home a feel of being on the oceanside. These collectibles are so durable they won't be restricted to only the mantle.
Now that you have so many options to choose from, which ones are you bringing home to add to your summer aesthetic?