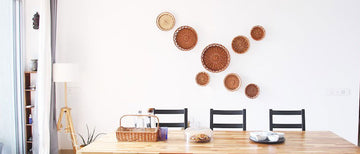 Cane baskets are a popular decor item that can add a touch of rustic charm to any room. These versatile and stylish cane baskets & picnic baskets can be used in a variety of ways, from storage solutions to decorative accents. 
Here are 5 creative ways to incorporate cane baskets & picnic baskets into your home decor.
The contemporary Indian decor:
We all have trays at home for when there are guests at home, the cutlery, tea & snacks are dolled on this tray, mostly these are plastic but we have a better alternative, these cane baskets will give your plastic serving trays a run for their money. Beautiful, dainty & absolutely gorgeous cane baskets might just make your tea taste better. Along with this you could use these three wall cane baskets on your walls and add a naturally fresh touch to your home. Keeping in theme this wicker picnic basket is dramatic to look at but subtle enough to be able to blend in when needed and we could definitely see it being used in maybe your garden, or even as pretty storage for your dry kitchen ingredients. 
The warm minimalist decor: 
This aesthetic is what we usually call homely, something that relaxes you, and gives you a feeling of peace & tranquillity. Our roti cane baskets will fit right in & just add to that warm, glowy down-to-earth aesthetic while keeping your rotis & parathas warm. 
You could carry forward this aesthetic all around the house by using these beautiful storage cane baskets to store away your laundry, dry ingredients, or board games. The storage options are truly endless with this one. This Joey picnic basket is a warm-looking spacious picnic basket that will be able to easily hold groceries, spices, toys, and more. 
The Bollywood color pop decor:
Bollywood is all about pop and standing out, even while staying minimal. These cane wall baskets will definitely catch the attention of anyone who visits. Bollywood is also about showcasing the best of your tastes. These tray & display cane baskets will store all your filmy memorabilia & coffee table autobiographies and so much more. To add to this you could also carry the quintessential wicker picnic basket and go on a KKHH-themed dinner or lunch date with your significant other. 
The aesthetic dining table decor: 
Use as a decorative centrepiece for a dining table.
Cane basket can make a beautiful and unique centrepiece for your dining table. Fill it with seasonal fruits, flowers, or even candles to create a stunning display. You can also add a table runner or placemats that complement the colors of the basket to tie the whole look together. This is a great way to add a natural and rustic touch to your dining room decor.
We have a plethora of options for all your aesthetic needs. These are the small ways you can include nature in your homes, daily wear & overall aesthetic, all while taking steps towards a more sustainable way of life. Making our DaisyLife cane baskets & picnic baskets part of your daily life.