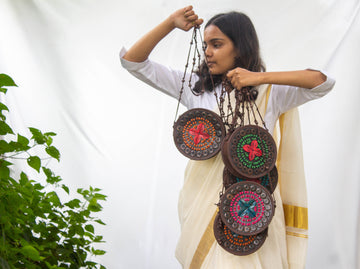 We know that trends get repeated every few years, but sling bags have never gone out of style. These handicraft sling bags may be small but they carry the entire look. 
Sling bags are a versatile and stylish handicraft option for carrying your essentials on the go. Whether you're commuting to work or running errands, a good sling bag can make all the difference. Check out our list of the top 5 handicraft sling bags for everyday use and find the perfect match for your needs and style.
The college girl aesthetic: 
The perfect coco rings crossbody sling bags to complete your daily college look, or if you are someone who wears your heart on your sleeve and you want to make a statement among your friends, you should get your hands on these handicraft  heart-on crossbody sling bags or even the handicraft coco garden sling bags
The clean girl aesthetic: 
Functional, minimalist, and clean these sage crossbody sling bags are simple and expertly made handicraft bags, that will merge amazingly with any outfit you choose to wear. These will complement your clean girl aesthetic as well. If white is not your colour then we have these amazing earthy Vera & Sara crossbody sling bags which will add some earthy natural tones to your look effortlessly. 
The flower child aesthetic:
Some people are naturally born with an immense love for all things natural & have extremely flowery personalities. Let's face it everyone absolutely loves flowers, for those who love dressing in all floral attire, why not include these cute wild flowers crossbody sling bags. If that is too floral for you and you like being subtle you can try the mono crossbody sling bags. 
The chic chick aesthetic: 
This is for the ones who like elegance and minimalism above everything else, especially when it comes to their accessories. For them, we have the Eve & Jade crossbody sling bags that come in neutral earthy coco colors & also vibrant multicolor variations for the days you wish to add a pop of color to your look.
The rainbow state of mind aesthetic: 
For the girls who have never had a dull moment in life, they're all about expressing themselves through color. The postman, RGB & pink pop sling bags are the perfect bags to add to your wardrobes. These handicraft sling bags will not leave you feeling blue even if the skies are grey.
While we are still on the topic of different aesthetics, let's take a look at some home decor aesthetics that seem to be trending in Indian homes today. We are seeing a gradual shift from families choosing plastic decor to more sustainable & natural cane baskets. More on this in the next blog, so come back soon.