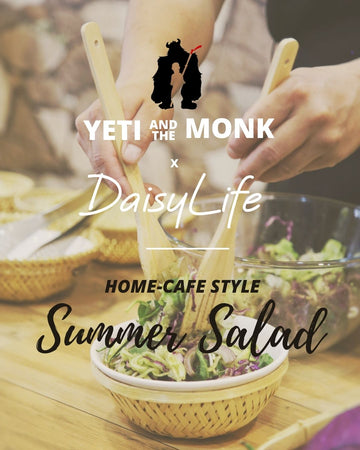 From Darjeeling to Hyatt in US, to Cloud Kitchen in Mumbai to "Yeti and the Monk" in Pune... Chef Bikki is following his passion with his friend Chef Saurabh! They are keeping it real and charming Pune foodies with their style. 
Chef Bikki & Chef Saurabh at @yetiandthemonk 
Chef Bikki is from Darjeeling and his stories are fascinating... he not only is the man behind the delicious cuisine but also shares a hobby for bamboo handiwork back home where bamboo is an essential part of their day to day life! We relate :D
His cheerful, innocent smile, sparkling eyes, the calm composure, a joyful pride in his soft voice for the food he makes and the craft he enjoys is instantly charming and you want him to cook and smile for you!
Till you visit the place, he sweetly agreed to do a #SummerSalad recipe for the #DaisyLifeFam to enjoy a Home-Cafe experience! 
We're at the table with "Yeti and the Monk" on this bright summer day to share a very summery recipe with the #DaisyFam that's perfect for the weather. A contemporary recipe developed by Chef Bikki, that has a twist of a homely Indian secret ingredient. (Read on to know ;) )
The flavors are inspired by the Indian palette; the ingredients are a good mix of something exotic, simple and cooling. All these ingredients are easily available in the Indian hyper/ super markets and now a days in the local markets as well!
The salad is just a matter of a good toss
and is perfect for the summer season!
Chef Bikki at work!
A colorful combination of flavors plated in a dish donned by a cooling bamboo serveware basket, beautiful isn't it? By now we've probably sparked your curiosity as to how this unique summer delight tastes like... A mix of red cabbage, onions, zucchini, iceberg, cucumber, baby spinach, bean sprouts and micro greens with a refreshing kick from a dressing that's a mix of spicy and cooling minty flavours.
This bowl of scrumptiousness is put together with a bit of choppity chop, blend and sprinkle of yum; that's arranged and plated with aesthetic serveware and cool to touch bamboo kitchenware, you'd definitely want to try for yourself!
Here you go!
INGREDIENTS:
Chunda (Mother's Recipe)
Mint
Coriander
Vinegar
Salt
Pepper
Red cabbage
Iceberg
Baby spinach
Cucumber
Red onion
Zucchini
Bean sprouts
Roasted almonds with garam masala (Note: garam masala)
Microgreens

Method:
Step 1: Start by chopping the red cabbage s

lice half of the cabbage into wedges and then slice them into shreds

, we're using the chop-chop bamboo chopping board it's firm and doesn't slip.


Step 2: Cut the red onion in half and then cut them into thin slices.


Step 3: Blanche a zucchini and cut the vegetable lengthwise into thin slices.


Step 4: Cut the Iceberg into two halves take one half and cut it roughly into cubes.


Step 5: Peel the Cucumber and attach the vegetable to a spiralizer for a noodle cut. If preferred you can even carve the cucumber with a knife or use a slicer as per convenience.


Step 6: Add the baby spinach leaves, bean sprouts and the cut vegetables into a large mixing bowl.


Step 7: For the dressing for the salad. Chop mint and coriander and place them in a blender. Add in the chunda, salt, pepper and a few small red chillies to the mix. Blend the ingredients well with a little water. The ingredients were ready in these pretty little bamboo baskets which made it fast and easy, saving mixing time.


Step 8: Add the dressing to the salad and mix it in well lightly, make sure that the salad is well coated. These smooth and light bamboo spoons used to give the salad a toss and they're super handy.


Step 9: Finally for the garnish, After plating the salad in a dish with a bamboo serveware basket sprinkle almonds (roasted with garam masala) and microgreens.
The salad's ready all that's left is for you to dig into the delightful crisp-juicy summery refreshing meal.
Make it special and stay cool at home this summer with this Home-Café style salad using bamboo salad spoons and serve in bamboo baskets. A delicious crunch in every bite from a bowl filled with summer's delight. We loved it and so will you!
______________________
Read - The Story of "Yeti and the Monk"
Sign up to our newsletter here to stay updated on new products, recipes, stories and using natural material products in daily life.
Connect with us on Instagram: @daisylife.in to DM your photos/ tag us and tell us if you loved our recipe or just say hello.