Conscious Living
5 inspirations, learnings, resolutions for the journey this year- Carrying forward the best!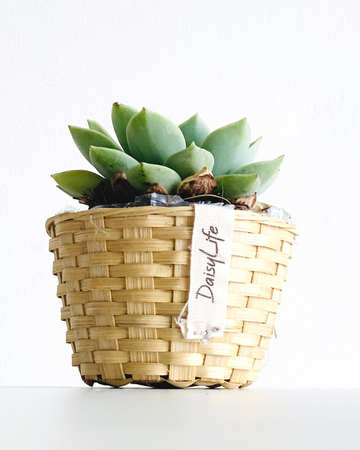 2021 was packed and we saw DaisyLife products come to life with you... in your home, in your heart in more ways than we could imagine. Building a brand is not easy... seeing the love DaisyLife receives fills us with joy! Every message from you, every picture shared, every comment we receive is happiness... Happiness seeing how it matters, knowing it is making the difference we pursue.
DaisyLife is simple, natural living without having to go out of your way... the journey to clear the clutter, stay connected to the core while moving towards better living. 
Simplest of all flowers, the beauty of a daisy is in the fact that it's real to its nature without any frills, simple yet sophisticated, delicate yet tough, ubiquitous yet distinguished, beautiful yet practical, exquisite yet approachable, adaptable and yet maintains its identity.
Our products are curated in this spirit. They reflect the aesthetics and characteristics of these values. Mass products of the craft world, these products are ubiquitous. It's not a niche or an exquisite handicraft, an antique or designer and they are loved just like that.
And we aspire to bring to everyday life, bring this to you, to every home in India, to every home in the world, to keep life natural, stay rooted as the human race progresses... a world where people use the latest gadgets and technology alongside the simplest natural material products.
With the privilege to work in this category, an unorganised world of simple natural material products... to appreciate and give it a structure, a personality, a name. DaisyLife ... because simplicity is simple.
Towards this journey, we move forward into a new year hopeful and bright eyed. Our vision and you, our north star.
Setting the stage for 2022 with these 5 nuggets, learnings, inspiration on the quest to transform modern living, to make a better world, to make a better life.
A little girl who makes it look so simple, a mother who makes it all natural! Inspired by Veda, her mum, accepting life and living it well.. she has our heart and more this year!
Veda's play shelf organised for independent play & learning. Love how neat it is in neutral & natural colours and it's easy to focus on the toys.
Small parts, buttons organised in little bamboo baskets

We look forward to working some more in the kids category, a DaisyLife style kids room. Some beautiful ideas blooming here so stay tuned.
WHO WILL WATER THE PLANTS? Because planting trees is not enough. A small first step to raise awareness for ANANDVAN Urban Forest and with your support we sponsored a day's supply of 6 water tankers.
Looking forward to more such work in 2022 to make urban spaces greener... to reimagining city landscapes.
3. LESS IS MORE - REPURPOSED and MULTI-FUCTIONAL PRODUCTS
Baskets that go up as wall decor, storage that doubles up as a side table, outdoor stuff that works as easily as a handy caddy indoors. Giving a fresh leash of life to products, to finding more ways to make less more is a joy of content... a principle to be more mindful about.
4. DIY WAY
Creativity is core to humans and being able to express it in as many ways is luxury of life we can have more of! Bamboo DIY Mats transformed in your homes in so many ways and every DIY project - All YOU, FASCINATING!
Every material, accessory we introduced sparked new ideas and projects for you making us jump with excitement! More tools this way, more energy this kind, this year!
We are on a journey to  transform the template of Modern Homes and City Living.
A world where homes represent the natural landscape of the planet that we walk on and as much as the comfort and luxuries of a modern world. A home inclusive of elements of nature, of life, of progress, of everything that keeps us alive.
Homes that protect us from nature but not devoid of the power of nature. Homes that make life as simple and easy as taking a breath and as powerful as the tech we build. Homes that foster love, peace, harmony, growth. Homes where we grow with the simplest forms and applications of nature along with the awareness of the most complex science behind it.
Homes that are not an escape to forget nature nor that drive us to escape into nature.
A wish for homes that bring in nature seamlessly, homes that keep us free, homes without boundaries.
The picture of modern lifestyle that's more than concrete, plastic, metal and glass...
Giving it a life of its own, we move forward manifesting this vision with natural materials and raw elements of nature a natural part of homes, a natural way of everyday life. 
Have a great year!
 ------------------------
Taste the flavours of nature with recipes from 
Cafe Daisy
_______________
Sign up to our newsletter 
here
 to get updates on
 products, deals, discounts and more such stories
Connect with us on Instagram:
@daisylife.in
 to see natural material products in daily life