Conscious Living
"Life is not meant to be lived within walls": Gallery Wall Landscapes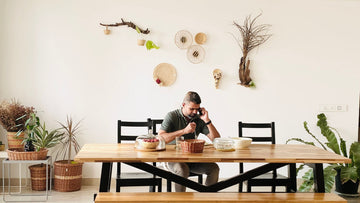 We went on a hike... on an uneven trail, a rocky path, the way less travelled. Meandering around through the trees, we watched the sun shine through the branches, we looked over the edge of the hill and felt the wind on our face. We hobbled down to the ponds to watch the birds take their place, saw the grass feeling the breeze and took long deep breaths of fresh air.
The sound, was of the chirping birds and the sight of a natural terrain... no planned structures, no unnatural elements, no dividing walls...
Unaware of how each cell of our body had leaped up with joy and positively welcomed that natural habitat, we came back to our home refreshed, recharged, filled with energy, filled with life.
Back at home looking around was a landscape missing... where was that tree whose branches grew in every way it could, where was that pond which had nurtured it's own variety of habitat around, where were the hills with the grass growing freely.....
In nature's home each one was freely its own and together... boundaries were their own limits... everything seemed in its own place yet free and wild.
Back at home, as cosy and comfortable as it was, the walls defined the life inside... while creating space for its people, it now seemed to define its people... while creating a home to nurture life it had limited life... the walls we had built to protect our life had left the life outside... the space seemed more for the things we owned rather than us...
Go where you feel most alive they say...  An ode to the places we escape into, we brought them into our home and transformed our walls to reflect the landscape of this planet in this Gallery Wall Collection 'Life~2022'.
Our favourite 5 that inspire us, call us ever so often, make us wonder in awe, help realise life is bigger than us and  fill us up with the fuel to experience a good life, to live well, to love our home. 
A walk into the woods is connecting to one's soul... seeing life in a forest and the way nature is at work and nothing else matters helps make sense of this world, creates a sense of peace, instils a certain type of faith. Bringing it in with Forest Gallery Wall installation.
Enjoy 5 different styles of basketry in 'Forest Living'- a functional growing wall installation. Baskets, planters, a vase and mat completely made with bamboo and wood. Add plants, creepers and complement your souvenirs collected from the forest.
'The Woods' is an installation to add more plants and create a growing wall with combination of bamboo and wicker to reflect the woods. Handmade strong wicker baskets and planters that add depth and texture, bamboo basket, vase and mat add an element of lightness. Hang plants, creepers, keep dry flowers, pine cones, berries, feathers you collected.


The mountains are calling and I must go... Strong, solid and the pillars of support, mountains make us feel we can touch the sky. The best views are from a the top of one so whether you climb a mountain, admire the peaks or stand atop and feel the wind on your face,  a peak inspires, makes us ambitious, gives us courage and hope. 
A depiction of a mountain of your own here. In a combination of strong wicker baskets easy to rope up and display a collection of mountain rocks complemented by the round lightweight bamboo mat depicting the sun shining behind the peaks. Dry grass and mountain flowers look great in this installation. 
A sense of freedom, intense passion, the power to heal in the quite of the sea. Like the waves of the ocean it sets our spirit free and everything becomes okay. We dream of faraway lands beyond the horizon, the varied life that walk, swim, crawl, fly on this earth, the changing landscape, how big this world really is and our infinite capacity to feel, grow, live and love.
A beautiful collection of a variety of different shapes and sizes of bamboo baskets accompanied by handcrafted wooden ship and the unique craft of flexible wooden fish. Complement with your collection of shells and corals brought back from your beach holidays. 
Riding the waves together in these versions of the sea.
'Waves' is a collection of different shapes of wicker to depict the strength of the ocean along with bamboo ranging from intricate designs to simplicity to feel the gentleness of water. A bamboo envelope bag to hold memories of travel across the ocean, the little creatures of the ocean big and small, the courage of the ship to sail deep waters. 
Days on a desert makes us appreciate life and the little things we may have missed. Fills us with gratitude for the gifts of nature.... a realisation of the life we take for granted and the strength to survive, to overcome the challenges of an empty life. An installation of the sand dunes to hold it close.
Handmade bamboo and grass baskets, a little bamboo planter to grow a little succulent and a wooden palm tree key chain hangar. A functional wall installation in the entry way to add a little plant and keep the keys. 'Desert Life' is an oasis to walk into as soon as you enter your home.
Sitting by the lake is a perfect life. A sense of being self-sufficient and living off the land, there's little more we need. By the lake, we have everything. A beautiful lake to know the kindness of nature in this installation.
Display different craft styles in bamboo work and a unique wood craft style. The bamboo bag is functional to keep flowers, stationery and more, clip photos and dry flowers to the bamboo mat, put up pebbles on the bamboo plate. A completely natural collection of bamboo and wood handicraft in 'Life by the Lake'.
There are people and then there are wildflowers.
Wildflowers are different.
They are simple.
Raw.
Growing their roots, taking on the sunshine and challenges all at once.
DaisyLife is a loyalist to all you wildflowers out there.

Welcoming you to create this natural space in your home, in your city, on this planet, in this world.
That branch you found, the shells you picked up, the feathers that flew in, the leaves you saved, the pebble you held is your route to nature, to life.
Complementing them is our natural decor collection. Bring them together to create your masterpiece. 
Gallery Wall 'Life~2022' is a collection for you to create. Bring it alive in your version, on your walls, in your home.
Doodle, scribble, paint, install, express. Let those walls mean more, let those walls be a seamless transition between the indoors and out. Create walls that are a landscape of this planet we call home.
A home inclusive of elements of nature, of life, of progress, of everything that keeps us alive. Homes that protect us from nature but not devoid of the power of nature. 
Homes that make life as simple and easy as taking a breath and as powerful as the tech we build. 
Homes that foster love, peace, harmony, growth. Homes where we grow with the simplest forms and applications of nature along with the awareness of the most complex science behind it.
Homes that are not an escape to forget nature nor that drive us to escape into nature. Bring in nature seamlessly for homes that keep us free, homes without boundaries.
Bring in some sun, lot of shine and nature in life, everyday.
We will silently support you.
-----------------------
Sign up to our newsletter here to get updates on new products and offers.
Follow @daisylife.in Instagram to see more of natural material products for daily use.