Conscious Living
Surreal gifting starts here: Meet our all-natural basket hampers
Made with love and thought, basket hampers show care and appreciation, not just toward the recipient but our planet as well.
To us, gifting has always been more than just giving; it's about conveying an experience, evoking emotions, and creating lasting memories. As the festive season arrives, we are excited to embrace the art of gifting as an experience, woven into the very fabric of nature with our newly-launched range of basket hampers. Pretty, functional, meaningful, sustainable, and reusable- These gift hampers have it all. Take a look.
Moon Basket Hamper: A journey through words, more than words
Picture the cosy corner of a room, adorned with the gentle glow of a lamp, the aroma of freshly brewed coffee dancing in the air, and a captivating book in hand. Our Moon Basket Hamper is an invitation to an experience, a retreat for the soul. With a carefully selected book, a coffee mug, a spoon, and a bookmark, accompanied by the rich essence of aromatic coffee, Green Leaf Dry Fruits, and dried pineapple coins, it's a journey through words and aromas. This hamper doesn't just contain gifts, it houses an entire literary escapade for the recipient.
Mithai Basket Hamper: A taste of tradition and love
For centuries, food has been a love language- A medium to convey warmth, tradition, and familial bonds. Our Mithai Basket Hamper is a celebration of this very essence, all put together in our bestselling Roti Basket. Inside, you will find a special dried fruit ladoo, a diya illuminating hope, and another sweet surprise, telling a story of sweetness and tradition. Perfect for occasions like Diwali, this gift hamper will make for a memorable gift.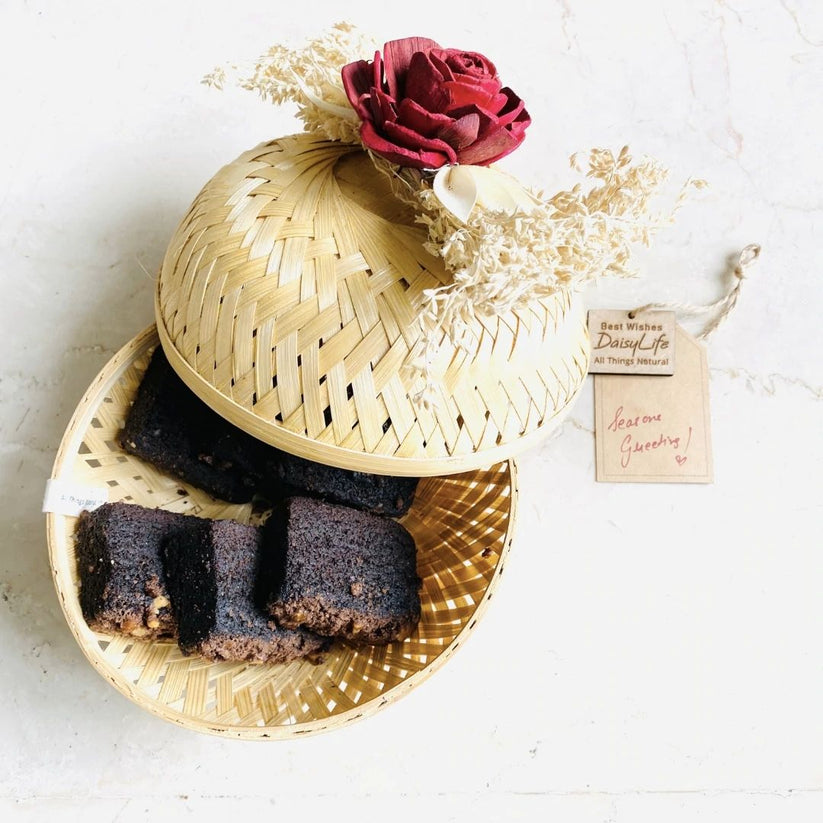 Home Essentials Basket Hamper: A sanctuary of tranquillity
In the chaotic symphony of life, finding moments of tranquillity is a gift in itself. Our Home Essentials Basket is an escape, a treasure trove of calm and comfort. Here, you will find our gorgeous Bamboo Square Caddy Basket with a diya, aromatic essential oils, a potted plant, sage, a tablecloth, premium incense sticks, and a tealight candle inside. Each item embodies a moment of serenity, a touch of nature's grace, and an essence of home for the recipient- Making it the perfect gift hampers for occasions like festivals, birthdays, and housewarmings.
Little Bucket Baskets: Sweet indulgences, sweeter moments
The joy of gifting is often found in the simple, sweet indulgences that bring smiles. Our Little Bucket Baskets, filled with motichoor ladoos, embody just that and are a reminder that happiness often resides in the little things. These tiny delights not only satiate the taste buds but also carry the sweetness of shared moments and cherished memories- Making it the perfect gift for all the times you want to curate something sweet, simple and thoughtful for your recipient.
Flower Girl Wicker Basket: Housing creativity
Art is an experience and our Flower Girl Wicker Basket makes gifting this experience easy. Created for everyone who loves expressing themselves using colours, this basket hamper has paints, brushes, and a notebook. Symbolizing self-expression, imagination, and the joy of creating, this gift basket is mindful, loving, and full of warmth.
Discover basket hampers for every occasion here
Gifting, at its core, is about sharing an experience, a feeling, and a memory. It's about celebrating relationships and appreciating the beauty of life. Our all-natural basket hampers are more than just gifts; they are thought, love, and care put together for the recipient. Each of our gift hampers tugs at a different heartstring- While some celebrate the love for reading and art, some are about the shared sweetness of festivities. This way, we know we have curated something special for everyone.