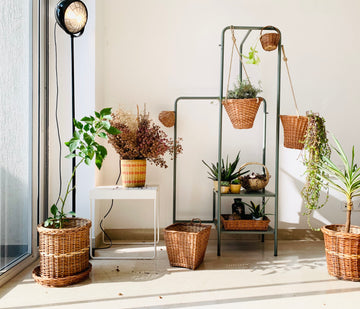 Creating spaces inside the house that bring in the outdoor elements and yet have a warmth of the home is what we are after!
Homes that are comfortable and yet inclusive of nature. Modern spaces that easily blend the outdoors inside... or the indoors outside for that matter.
Shelter of a home with the wildness of the forest, warmth of the bed with the freshness of nature, convenience of a house with the attractiveness of the natural elements.
As we explore the scope of this becoming a reality, here's our idea of a green corner inside the house that bridges the gap, fades the boundaries and the simplest way to get your wild side live.
8 STEPS TOWARDS MODERN WILDERNESS 
Use a corner that gets sunlight.
Keep a lamp to give more light.
Use wild plants – they grow better, quicker, need less water and are more hardy hence have a higher survival rate.
Allow plants to grow whichever way they find. Trimming or guiding takes it away from its natural route and loses the wild charm of the outdoors.
Use planters that are made with natural materials and handmade. Builds the outdoorsy appeal and keeps it natural.
Make a combination of big and small plants, like you would see outside.
Group plants together, they grow better as a community... just like us humans.
Add dry shrubs and flowers.
That's it folks! Share your tips and if you are making a green corner at home, send us pictures on Instagram @daisylife.in #daisylifestyle or email live@daisylife.in and we would love to feature your tips, tricks, style with DaisyLife community to get wild at home!
"Nature is not a place to visit, nature is home"- Gary Snyder