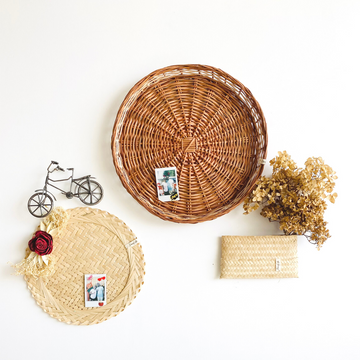 What do we put up on our walls? Stuff that inspires, things that we admire, appreciate, pictures we love and memories that make us feel good, grateful and loved. The walls are the canvas of our life, reflecting what matters and to add new layers, textures, depths nurturing the landscape to bloom.
For this Valentine's Day, we explored the idea of a memory wall. One that's more than paintings, pictures and artwork, a wall that is an installation of your life story in the memories you saved. A beautiful way to remember the love you share and live it through the years.
Saving those flowers he gave, the photo booth polaroid you clicked at the concert, the shells picked walking at the beach, the card you have kept, the sketch from the classroom or the notes you leave for each other are the joys of life. Knowing we are loved, inspires to share that love... an empty cup cannot pour for thee.
These cherished memories weave the story of life and give the fuel to live well.
Purpose of life? It's about experiencing all it has to offer to one and to love! Love deeply, fully, love every moment, love with all the heart. 
Wondering how it will look good together on the wall, will it fit in with the aesthetics, how to fix it up?
Here are 8 tips to DIY your personal masterpiece –
Use neutral colours for the background to balance and enhance the different colours of everything you want to put up – don't shy away from using everything you want to put up. The background and add ons are only to make the tokens stand-out.

Use unifying and functional props that add texture. Like this wall basket can hold multiple different pieces like photos, shells, dried flowers, feathers.
 3. Or this wall envelope can hold cards, letters, notes you want to save and read once in a while and also works to save the rose you are drying whole. Makes it easy to add new ones.
4. Add décor that reminds you of your hobbies or activities you enjoy with your loved ones.
5. Use your personal accessories to the installation. The weaves can hold that one earring you are saving because you lost the other one but don't have the heart to throw away the other.
6.Put up the old bag that saw you through many interviews or add a decorative hook to hang the one you are using every day.
7. Make it an active storage to keep your pens, pencils, paintbrush handy.
8. Use thin nails that can be hammered in so you don't need to drill and keeps it easy to shuffle around when you add new pieces. Silicon tapes, double sided tapes, glue drops and blue tacks are also easy to hang most stuff. 
Inspired? We would love to see yours! And this Valentine's is the perfect day and reason to get this up.
Got more ideas and tips, drop in comments to share with the DaisyLife family.
-------------------------------------
Read more on How to put up wall baskets?
In case you need help or we missed something, feel free to drop a message on our Instagram @daisylife.in or drop a comment below - we are at your service :) 
Connect with us on 
Instagram:
@daisylife.in
 to DM your photos/ tag us and tell us about how you used them, get décor ideas from basket lovers or just say hello!
Sign up to our newsletter here to get updates on new baskets and offers.


Check this blog for ideas on Basket Gallery Walls -
Top looks for Basket Gallery Walls this Summer