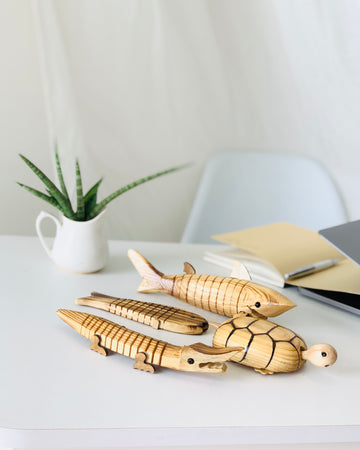 Buddies from the wild.
We have Bob, Boo, Sharky and Drake from the blue blue sea. Then there's Skippy the Squirrel and Torty the Tortoise, Family of Jaws the alligators and Dino the dinosaur, who walked the wilder planet.
A collection of wooden animals, not carved but pieces put together to make them flexible like the real ones. So you'll see Bob and friends move gracefully like their ideals swimming the ocean, Torty can keep his head and tail safe, Dino's long neck is envious and you don't want to mess with the Jaws!
Choose your friend or for your friend, the friendly Bob, Boo by the side, edgy with Sharky, fun with Drake, energetic with Skippy, steady with Torty, cool with the Jaws or wise with Dino or maybe hangout and party with all!
An adorable collection you can get to add some wild to your home, keep them on display, make them your work buddy to fidget, play and have your back as a cool paperweight.
Makes cool gifts for friends and family to keep on their work table and get some outdoor inside, whether working from home or at office.
Skillfully made with pieces of natural wood, the natural colour tone is maintained with a clear polish and the natural texture is real. 
This is a gang you want around for good!