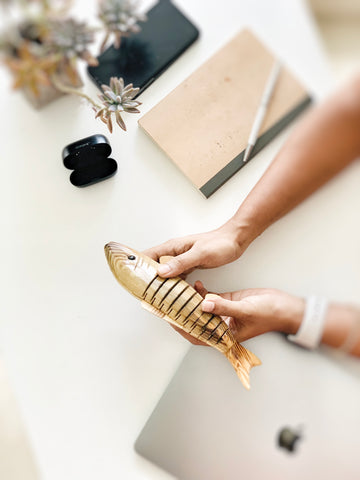 Like playing with the pen when you are thinking or on a call at your desk? Notice your hand reaching out to random objects in the middle of a conversation? Find yourself tapping on the desk when listening to your collegues or while attending an online session? Yes most of us fidget.
Online sources state that impatience, stress, anxiety, excitement are some of the common reasons cited why you would need to fidget and having something to play with helps to focus, pay attention, stay calm, reduce restlessness and active listening. Fidgets are simple self-regulation tools.
We find ourselves doodling, tapping the foot, fidgeting with a random reachable object, tapping the pen or pencil when thinking hard, wondering, deep in thought and day dreaming.
Whether self-regulating or a device to dig into the depths of our primate brains, fidgets are handy.  
The wooden flexi animals make an excellent choice for your work table or study table. The design is such that the flexible body of the animals are fun for mindless play and when not in use they make a fun buddy on the table or as a paper weight. The fish family, dinosaur, alligator collection, squirrel and the tortoise all have their body's move similar to the real counterparts and look amusing.
The colours are all natural wood and hence the neutral shade easily fits into all types of decor and colour schemes.
So if you like to fidget or know somebody who does, make it a fun flexi animal fidget.
_______________
Taste the flavours of nature with recipes from 
Cafe Daisy
_______________
Sign up to our newsletter 
here
 to get updates on
 products, deals, discounts and more such stories
Connect with us on Instagram:
@daisylife.in
 to see natural material products in daily life