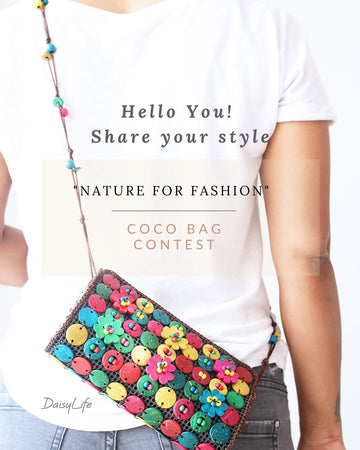 Coco Bag Contest - send in your entries by 27th May.
Hello fashion folks...
We are so excited to be here this week to create some cool looks with the natural Coco Bags and can't wait to see your style!
One Winning style & Top Five looks:
1.A poll on our Instagram to choose One Winning look and Top Five most attractive styles
2.You'll be our "DaisyLife Natural Fashion Stylist" for 2021
3.DaisyLife "Natural Lifestyle Goodies" Hamper worth Rs.3000/- for the winners
4.The winning styles will be featured on the website in our blog #DaisyLifeStories and in the weekly newsletter "5 Daisy Friday" 
How to enter?
1.Go to the COCO BAGS COLLECTION 
2.Select a bag 
3.Screenshot the selected bag
4.Make a "NATURAL FASHION STYLE BOARD" 
(Refer to the style boards below for ideas. You can send one or more style boards)
5.Send via DM at our Instagram handle @daisylife.in or email it to contact.us@daisylife.in
Terms & Conditions 
Please note there is no purchase necessary to enter this contest not does it increase the chances of winning.

The contest runs from 13 May 2021 to 12:00 am IST, 27 May 2021

The contest is open for all

The winner will be decided via story polls on our Instagram page @daisylife.in 

The winner will be announced on 1st June 2021

The contest is completely run and administered by DaisyLife.

All entries and any copyright subsisting in the entries become and remain the property of DaisyLife who may publish or cause to be published any of the entries received.

The competition is void where prohibited.

This competition is not sponsored by Facebook or Instagram.
___________
Natural Fashion is slowly turning into a way of life. Why?
Fashion, for a while now is one of the topmost industries producing tremendous amounts of chemical hazardous waste, needs huge consumption of energy as well as resources.
As consumers today, we need to be more aware and choose better. Conscious consumption and sustainable, ethical, eco-friendly and mindful choices is the need of the hour. Yes it's just a 'clan' now, but it's soon going to be 'masses'! We firmly believe so...
Natural fashion is the new cool.
Our Coco Bags are made with real coconut shells. They are cut, shaped, buffed and finally polished into different shapes and sizes. 
These are hand-stitched on recycled poly fibre mesh, crafted from discarded bottles.
The wooden beads, coconut shells and seams are stitched together on this PU mesh, one by one. The inner lining is quality polyester in the smaller bags and oxford fabric for the big bags.
Fun to use, the bags feel naturally cool and smooth against the skin. They come in different styles, colors, shapes for a fun casual/ semi-formal look. Bags are personal & very close to women, so what's a better way to add that warm touch of nature to our everydays! 
Here are 5 ways to sway the super cool coco bags:  
1. BOHO CHIC : 
Bit Boho, bit suave and a sprinkle of romantic feels! Pick a Ruffle Dress and pair it best with our "Daisy Love" wristlet that's smooth to touch and is at ease! Walk on with those cute Kitten Heels and you are all ready for a romantic date, a casual meet with a friend or a nice brunch meal!
2. CAUSAL INDIAN WEAR:
Don't we like it easy-peasy-breezy with our Indian wardrobe? So how about a fresh blue Denim, a simple flared Chickenkari Kurta, some lightweight wooden tassels on the ears, a smart pair of tan flats and a cool Coco Shell Sling Bag to sway along!
3. WORKWEAR/ SEMI-FORMAL: 
A sophisticated yet easy work look for those semi-formal coffee shop kinda meets with your clients. Dress smart and do not forget to carry your statement Coco Handbag that has ample space for everything from your laptop to your cosmetic pouch. 
4. CLASSIC, SPORTY & FUN:
What's more classic than a Denim, a white crop top and a pair of chunky white sneakers? But but but, we all loveee to wear this very often, don't we! So here's a dash of super fun multicolor crossbody Coco Bags adding an interesting note to our favourite classics. Coco Bags on the go!
5. EVERYDAYS - CASUAL STROLL
A super easy, simple dress paired with nude flip-flops while you take a stroll around at vacays or one of those unrushed evenings after work. Just shoulder hang the cool Postman Sling to fit in your music gadget and other smaller essentials! 
What fun right? Hope you guys are excited as much as we are! ENTER THE CONTEST NOW!!
____________________
READ MORE on other 'Everyday Natural Material Products'.
Sign up to our newsletter 
here
 to get updates on fashion and lifestyle products.
Connect with us on Instagram:
@daisylife.in
 to see natural material products in daily life.