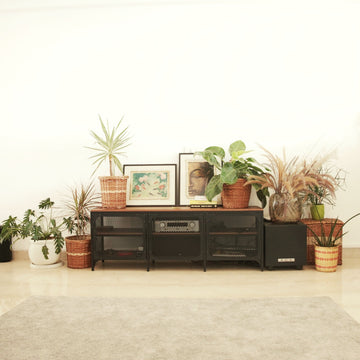 It's mental health awareness week and the theme for this year is Nature. 
We're inviting you to #ConnectWithNature this week to help improve your mental well-being during these difficult times. It's the perfect getaway to relieve pent up emotions and stress built from our everyday lives.


Benefits of nature to mental health
Over the years we have always looked to nature as a place of healing and growth and have always sought after for more. Connecting with Nature is a natural form of treatment that has proven by various researchers to be an antidote to mental health problems such as anxiety and depression. Being in nature or in any event, seeing scenes of nature, diminishes several mental health ailments.


Ways to interact with nature indoors
While the misconception that one can only surround themselves with nature outdoors still lingers, we're here to help you find ways to connect with nature even when you're home. 


1. Flora in your living space
A brief moment or a walk around a balcony filled with plant life is great way to connect with nature indoors even if it involves watering the little cactus you've just bought. Appreciating plants and adding a bit of greenery is perfect for a change of pace from the busy life that usually gets us down. Waking up and looking at a green lush plant adds a lot of value and can prove to be therapeutic.


2. Decorating with nature
Small air plants, creepers, flowers... Aren't they all really pretty? Decorating your living space with small pots of cactus, vase of flowers or a few creepers can give you just the exposure you need with nature. A fun activity that results with a new look to calm the mind from the everyday chaos.


3. A Nature photobook!
(Picture source: Pinterest)
As kids we'd pluck flowers or pick up fresh fallen flowers and beautiful leaves to bring them home to family. Later pressing them in a book with a hope they'll last forever! Didn't it feel good? You can put together a book that's all about nature by pasting pictures of beautiful landscapes to the clear and beautiful sky. Adding the collected pressed flowers and leaves then adding new ones is also a great way to reconnect ourselves with nature like we did when we were children.


4. Adding pieces of nature to homes
Natural material products are filled with the earthy textures and tones of nature. Décor pieces, furniture, fashion accessories made from simple materials like bamboo, jute, cane, rattan, wood, coconut shells, grass increases interaction with nature.
Wicker or
bamboo baskets
are multifunctional and can be easily used around the house from
laundry baskets
, to
fruit basket
, as
planters
, for kitchen and other storage and organization. They're easy to use and functional in different ways e.g. like how a basket can be used as
serveware
to a décor piece on a wall.
The fragments become part of our routines over time later becoming your "nature den".
Daily use products are also easy to adopt like
wooden combs
,
bamboo toothbrush
and other essential accessories. An Invariable simple touch that passes the warmth of nature rings through making us feel good.
Nature sparks a sense of admiration, wonder, and respect, all emotions known to have a spread of advantages. Anything from happiness and altruism to modesty and wellbeing is promoted.


Reconnecting with nature doesn't just have a positive effect on us but holds a good impression on the earth as well. To feel the breeze and also the dirt of the soil beneath our feet, bathing in sunlight and greenery offers more to the mind helping us absorb a decent breather
______________
Natural interactions with nature in everyday life.
______________