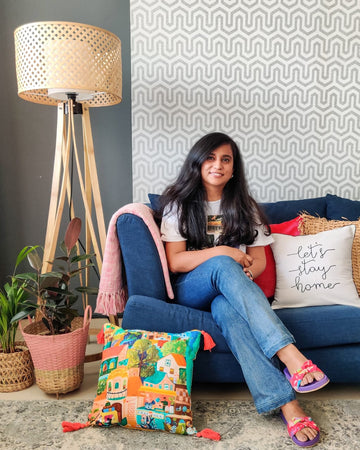 The festive season is here and we are all wrecking our brains for the perfect gifts and ideas to decorate our sacred spaces naturally yet in unique ways possible. Decorating our homes with lights and love has long been a tradition and so has been the process of festive gifting!
We have with us Anjari Ganguly from THAT YELLOW TRUNK who has taken over the internet with her unique and easy to make DIYs. We have seen her journey go from 10k followers to a community of 65k and we simply had to write about her!
Her drool-worthy Instagram account has been a saviour during lockdown for many people who took to inspired creative outlets for their homes.
"From an architect to a DIY star! We are curious as a cat about this journey!"
'Designing' for me has always been like a fun filled puzzle that I keep attempting until it is solved to my liking.  It all started when I moved to my new home a couple of years ago. I gradually decorated my new home on budget and started documenting everything on my page. Today "That Yellow Trunk" is a community of 65k+ and has been featured in many leading publications.
"Why should people make things they can purchase from the market?"
Creating things with your own hands gives a sense of being productive, an innate joy and also saves money! I feel it's a win-win thing!. Up-cycling supports a sustainable lifestyle while keeping our cherished objects with us for a longer time.
Anjari sips on her iced coffee as she takes us on a virtual tour of her splendidly furnished home with literally hundreds of DIYs all over!
'I fell in love with the bamboo mesh of DaisyLife! It's like you can almost use it in any which way and the outcome will be magical!'
She says as we curiously look at the bamboo mesh diys she has displayed in her balcony.
"Do share with us your favourite festive DIYs that we can attempt to replicate for the season!"
Umm...it's hard to list favourites! For all of my creations are as close to my heart as it gets!
But let's talk about 5 DaisyLife DIYs that I absolutely adore.
If I were to name my 5 favourite DIYs with DaisyLife's all natural products, I would name these!
1. Stencil wall art with Bamboo mats and a little magic of colour
In this DIY, Anjari came up with the creative idea of framing DaisyLife handwoven, natural bamboo mats. The stencil cityscape line art highlighted on the rustic natural bamboo mats is an apt expression of the DaisyLife vision of modern living to make natural materials a part of our modern city homes. Minimally and yet emotively outgoing!
See her video on how to make this frame here.
2. DIY Planter box
The favourite amongst all DIYers, the versatile Bamboo mesh went in to making this absolutely perfect planter box that simply makes the indoor plants look perfect for the contemporary home! Anjari, makes it look so easy to make here.
3. Underwater themed light box made with Bamboo fish miniatures and loads of easy creativity
These tiny handmade Bamboo fish are fun and Anjari created an aquarium for her desk that takes us underwater in the middle of the day without leaving the table. At home and yet away, ah! See her video to make this.
4. DIY planters with Bamboo mat
Used for making thatched roofs in the villages, this fine weave bamboo mat gets a new purpose at Anjari's. She makes a gorgeous cover for a simple black pot with her line art and paint on the fine weave that makes this the envy of all fellow planters! See how here. 
5. Wall hanging made with Bamboo table-mats!

The round Daisy Bamboo mats are pretty and work as decor, table mats, for flower decorations and more. Anjari makes a pretty wall hanging adding trivets and little loops. It's fabulous and she shows us how to make this in this video.
'I believe small budgets and small efforts can create smart corners in your home. And DIYs can help in achieving this.

DIY or "self-made-culture" is essentially an art rooted in our ancient culture that repurposes and reimagines the things we have to make the things we dream of!' 
Anjali says, the best part about DIYs is that they not only make your homes beautiful, they also add the most personal touch to your much loved spaces. Indulging your loved ones over creative activities turns the smallest of DIYs into artsy creations of infinite value, for these become memories more than objects. 
Moreover, in the era of customising everything to your taste why shouldn't gifting be an art of making the presents yourself and gifting your loved ones with keepsakes to cherish forever.