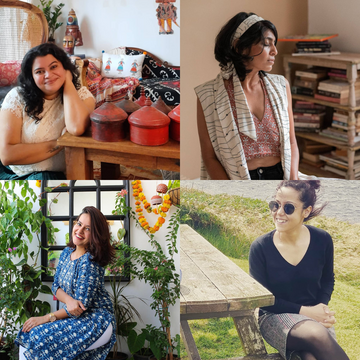 With the festivities beckoning us to deck up our homes in the choicest of fashion, these star DIYers show how natural materials instead of ready-made decor can be used in infinite ways to create dreamy visions in a jiffy!
For nature invited indoors is the best way for today's hectic times to lead an environment friendly, mindful life.
As they say, life is a sum total of everyday routine and practices, and what better than incorporating outdoorsy vibes in our day-to-day life?
Let's have a look at how these creative minds bring to life this conscious dream!
Preethi Prabhu 
Always creating magic with her DIYs made of reusable materials, @preethiprabhudotcom shows us how to spruce up our spaces naturally. This wreath made with easily found banana leaves and a woven bamboo mesh ring is a quick Christmas décor fix. Using thread & needle has kept it purely sustainable, amazing no? Using these as door wreaths for Christmas or New year sounds perfect.
Check her blog for more ideas on home décor, DIY and styling.
'Daisy' Round Bamboo Mats are perfectly suited to create these dreamy wreaths. Join in the DIY tribe easily and make gorgeous wreaths, coasters, wall hangings...  and so on!
Divya @mybohoaesthetics
Creates multi-dimensional picturesque scenes with stuff from your closets/kitchen drawers infused with the immediate nature elements! This picnic setup using bamboo in the most innovative of manners along with sheets and throws is something we all would love to do once in a while.
What we loved best is how enchanting candle stands are created with mini bamboo baskets kept on each other. ( The hanging bamboo basket lamps are a head turner too! Aren't they?). The way bamboo instantly adds a rustic natural appeal is something we are in awe of!
These handwoven bamboo baskets are tiny and can be converted easily into these cutesy candle stands that will be a part of many a warm conversations in your cozy gatherings. 
Sonakshi @incredible prodigy  
Believes in creating things simply and adding colours every which way she can. The way she has created a flower curtain out of two basic ingredients surely tingles the creative matter of our brains! Here's how cute bamboo ring curtains can easily deck up your curtains! 
These ring curtains subtly act as space separators or deck up your French windows. Adding fairy lights or inserting distanced flowers in them stimulates pretty cool visions for new-year card parties, doesn't it?
@sustainably.mili
Mili swears by plants to make any space feel homely yet contemporary. We love her ideas full of greenery that sustainably (as her instagram handle says out loud) turns a home into a nature's sanctuary! Her consistent drive to live in nature, to live with nature and make nature a way of life is inspiring!
This Zen garden created by her with a bamboo tray sourced from a village makes for an absolutely gorgeous center-piece, at the same time taking one closer to nature! Create this with a bamboo tray and charms to charm your guests away on dinner parties or may we be daring enough to say, make this your new-year gift this year! No way can there be anything more adorable and eco-friendly as a gift!
In the olden times our ancestors had daily rituals like taking an early morning bird-feeding walk or feeding strays, planting trees in the memories of your loved ones, introducing bird feeders to homes and so on, in a way these practices were only a way to interact with nature continually.
How beautiful! 
With these DIY ideas, this Christmas and New Year add the magic of nature to your home. Let's get back to an eternal conversation with nature. 
Let's get back to being happy.