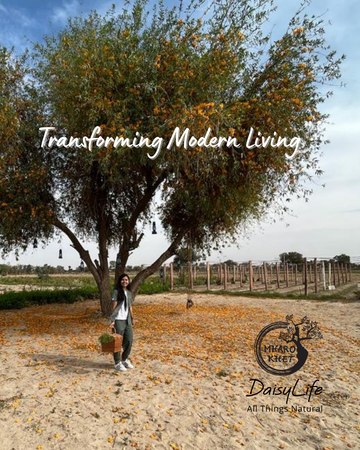 We have been looking for people working closely with nature, conversing with minds that are redefining the landscape of modern life, presenting solutions for urban dwellers. Coming across an urban farm in the midst of a desert was serendipity.
Situated 25 kms away from Jodhpur, Rajasthan is MharoKhet. A farm spread over 40 acres, growing around 85-90 varieties of exotic vegetables, fruits, medicinal plants and rare trees. A one of a kind urban farm that helps the city breathe.
We joined them in a wholesome experience that allows for direct interaction with the farm and enjoy a 7 course farm to fork dining affair.
Rajnush, an Oxford graduate and biochemical engineer turned urban farmer is the man behind this experimental farm, a working model for how a regular farm can become a regeneration hub in the arid desert of India. 
How did Mharo Khet happen?
Farming has been in the family since generations. I have grown up seeing seasonal crops and grains make way to our kitchen and this memory has been the force to be what my roots are, a farmer. 
As children we were made to understand the long journey through which a seed/plant goes before coming onto the table.
During one of our trips to Japan in 2019, I learnt how revered Kyoto vegetables are and the role they play in the country's food and dining system. This planted the idea of MharoKhet, and Covid in 2020 was a push to bring it to reality. 
Why Urban Farms?
One of the best things these farms do is providing food security for low income groups. Organically grown fruits and vegetables in a fresh state are usually sourced from bigger cities and hence the costing rockets through the sky, making it impossible for the average person to make it a part of their daily food cycle. It also enhances the local economy through employment and training opportunities.
Besides the fact that it reduces environmental impacts through less transport, packaging and use of preservatives to retain freshness.
Urban Farming is an interesting way to bring people together and to establish a sense of community. 
How was the response from people?
We opened our fields to visitors in the winters of 2021. It's interesting how the nature of interaction differs in different age groups. Even the geographical background of people makes them see nature differently.
An urban traveler has noticed aspects that they didn't know existed. Awareness about seasonality of vegetables, the long cycles before a plant fruits and how organic crops differ from non-organic becomes evident. 
People who have been out there in farms or spent time in nature are joyous visiting the fields recollecting fond memories from childhood. Children frolicking in the midst of the fields, swings hanging from the trees and the overall interaction between humans and a farm creates stories.
It's good to see people connect with nature in a way that only pushes them to interact more with nature and to adopt a sustainable, conscious lifestyle. 
What is fork to farm fine dining? 
It's a poetry... Chamomile fields nodding to the breeze as a child swings on a rope swing on a blooming Rohida (native to Rajasthan) tree. The heady scent of guavas filling one's senses as they sip on their freshly made coolers. Soft conversations catching the rhythm of the chirping birds and spring breeze as various courses of the meal arrive on a minimally setup table with fresh flowers from the farm. 
We wanted to extend our farm to everyone and this dine-in setup with freshly made food with in-house ingredients was a beautiful idea to create experience in the midst of nature. We try to be as organic as possible, from furniture to cutlery, everything is handmade. We loved incorporating DaisyLife's bamboo products in the 7-course lunches. Eating in reusable natural utensils is a grounding practice that takes one another step closer to being a part of the natural ambience. 
What is the sustainability cycle at MharoKhet? 
Crop rotation and diversity, aeroponics, permaculture of native trees, modern irrigation methods such as trickle drip irrigation are a few sustainability practices we use.
From last 5-7 years, our focus has been to be regenerative (more than sustainable). We host medicinal plants for animals that are very useful for the local fauna. Preserving the rare local floral species is another of our goals. We let the native weeds and flora grow organically for they keep the cycle of pollination going right.
We love to be as accommodative at the farm for interaction of native birds, animals and humans. 
It is a holistic inclusive farming approach, an agro-ecosystem, a story, between humans and the urban farm. 
Using and reusing everything that we have/need/want to keep the cycle of farming and our fine dining experiences going leads to an almost zero waste policy. 
What is the best thing about being a farmer?
Apart from the fact that I know everything about what I am eating? It gives me hope for a better future. A fix that works for better modern living. To be able to contribute to a healthy food cycle even for a handful of people makes MharoKhet more of a cause than a business. At the end of the day it's all about making the Earth a better place and to use agricultural practices that nurture Mother Earth is a drive that keeps it going. 
The farm is a grounding space where I find solace.