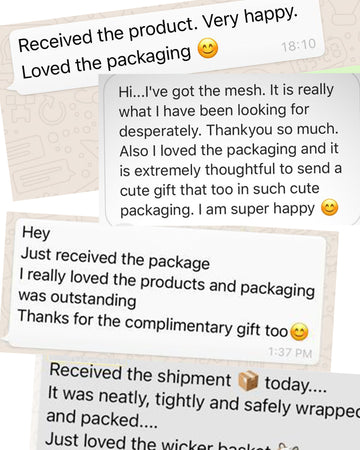 It takes a while to realize who one truly is and it becomes an ever evolving process.
While we are on a journey to sculpt DaisyLife everyday, here's what we definitely know - We are a clan of people who do what feels right for the love of our planet, for the love of our #DaisyFam, and for the love of our chosen path that is so dear to us! Expressing it loud coz hey, it's the #monthoflove :D
All this love is put into our products, into our everyday Instagramming and so so much into our Packaging! Here's an inside view of the DaisyLife packaging process done with a whole lot of conscience.
The 7 Heroes of DaisyLife packaging!
DaisyLife BOXES:
We use biodegradable, cardboard boxes and corrugated sheets. We don't use the ready plastic covers for any shipment. We also have a practice to first re-use all the boxes that come-in. We all bring in our own online shopping packaging as well to be reused. This helps keep the box packaging cost in control. It's a challenge to fit in so many different products into fixed box sizes without wasting space (increases logistic carbon footprint) We use corrugated sheets where ever we see unnecessary waste of box space. Our packaging team does a thorough job to judiciously use the boxes with an intention to not waste space and ensure absolute safe packing to avoid damage in shipping. We take pride in 99.99% times zero shipping damage.
OUR FILLERS-
In our quest for conscious packaging, we found RECYCLERS INDIA, with their concept of "Paper and Document Shredding". They collect files, papers, packaging from the corporate industries and shred it to recycle and use them as fillers! How COOOOOL is that!! You will never find air poly pack fillers in our boxes (unless they are recycled from what we have received from another shipment)
 

THE CUTE CLOTH BAGS YOU ALL LOVE-
One word - RE-USE. The sole purpose of cloth bags is that we'd love our customers if they can re-use our packaging. These cloth bags are pretty and can be used in so many ways. Its a big NO to pack it into packaging that is single use, immediately goes into the trash! Hence we avoid paper wraps as well as much as possible!
And that is why we love our Insta fam! Here are just a couple of them who put these bags to the best use! 
That's Purnima Tiwari a.k.a @warmthofourigloo  who made a cute little planter cover out of our Cacti bag
And here's Anubhuti Malhotra making everyday vegetable buying chores look pretty in our tissue net bag. 
JUTE TAG TIE- 
We feel, jute is just so nature. Like, real raw nature straight onto the skin... minimally unprocessed, naturally strong, solid threads to tie it all together. So good! 
CARDBOARD TAGS-
We gave this so much of thought - How would this look? Is it aesthetically going right? And so many other questions. There was just one answer to it and the moment we addressed it, BOOM! We started applying it. The answer was - It feels right to do this. Our new tags are no prints, no accessories, just one smallest sticker possible, stuck on a nice piece of cardboard recycled from the broken and factory waste.
BUTTON LOGOS -
Our logo button is made from thin wooden strips, minimally self burnt without using any sort of artificial materials or heavy printing proesses. We are so in love with it :)
BROWN PAPER-
The beautiful brown kraft paper we use is minimally processed and bio-degradable. 
_____________
To be honest, we have received a lot of love from all you wonderful folks on the way these natural material products are packed. We are so humbled and charged to do even more!
NEXT UP - We are excited to take our packaging a step ahead with paper tapes instead of cello tapes. Soon soon!
It has always been our genuine effort from Day 1 to minimize the carbon footprint that we create ourselves as well as external factors like packaging and printing vendors. We only wish if we could actually count the impact that each of these elements make. We're trying! But for now, just doing WHAT FEELS RIGHT....
Hey hey, let us know how you like our packaging in our Instagram DMs, or in the comments below!
__________
Shop handmade, natural Bamboo Toys
Shop natural material baskets, bags, home decor for everyday use on www.daisylife.in
Read our latest: THE SIMPLE CHILDHOOD & Other blogs from DaisyLife DIARIES 
Follow @daisylife.in on Instagram to join us in this journey of making natural material products a part of our daily life in the new/ changing lifestyles.