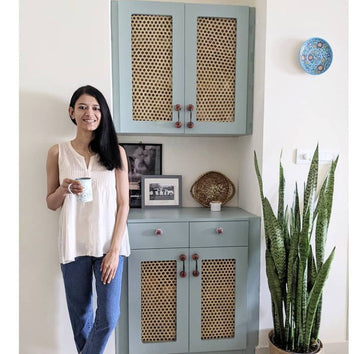 "A home makes space for its people to grow." A home nurtures us and gives us the conditions to grow, just like a nice pot that helps grow a beautiful sapling.
Our home is our comfort zone; where we explore, rediscover and unwind into the innermost part of ourselves, something that we love doing - our hobbies and interests. It helps us grow to achieve our dreams and desires. Its our life's charging spot where we re-energize! 
You don't just buy a home, you create it!
So how? We believe...
A home is an expressive space of oneself and décor is the language.
We often use our creative intuition to accomplish a better and all the more stylishly satisfying environment for ourselves using the space we live in. 
We find a sense of pure happiness in decorating our space. The result that seems to follow after having paint-covered hands, glue on our tips, a few splinters, etc seems to be worth it all to make our homes look good and feel good.
We are sure, our #DaisyLifeFam is full of creative and innovative people whose minds are always bustling with creative ideas to enhance their homes and personalize them.
Here are some of our top picks 

Air plant holder by @thegreenishaffair
@thegreenishaffair a.k.a. Aditi is a green space curator with an eye for interior styling. Her easy DIY with our bamboo basket is simply adorable. The beautiful little air plant held by weaves of jute rope sitting in our mini bamboo round basket is a simple and easy to do décor DIY for your greenhouse, balcony or the sweet spot of your living space. 
DIY chair makeover by @decorraaga
@decorraaga a.k.a. Divya is the founder of Craft weavers studio and is an interior stylist. The chair makeover with the bamboo mesh paired with a beautiful shade of green is captivating! A beautiful cottage core style, the calming shade of green, natural soothing bamboo mesh and the floral cushion setting are a perfect blend to a beautiful chair makeover.

DIY hanging lamp by @cosyquirk 
@cosyquirk a.k.a. Mohicka Is a storyteller and shares her quirky story on how to make a home cosy. Her DIY hanging lamp with bamboo mesh  is absolutely brilliant and she did full pro work on this. You can go see the process on her page. A beautiful vibe for the reading corner this lampshade literally illuminates the space with love and warmth.
DIY Storage unit makeover by @allthatihome
@allthatihome a.k.a. Jonali is a creative blogger and her DIY unit makeover with our bamboo mesh is a game-changer. The transformation from old to new is huge. The cool shade of blue and the idea of sandwiching the mesh to avoid using glue is simply genius! Visit her page to see the process in action.
DIY wall basket décor with @ankita.s.rai
 @ankita.s.rai is a master stylist and an expert on plants in city homes. She has adorned her bedroom with a range of our wall baskets and has literally made heads turn! This installation styled by her is available as "The Wall". The simple arrangement of wicker baskets above the headboard is absolutely stunning! It makes the space grand, warm and welcoming. Who wouldn't want to stay in here forever with this ethereal arrangement!
"You can't use up creativity. The more you use, the more you have" - Maya Angelou
It's amazing to see how these products are adopted and become a part of a home. We want to keep adding more nature to your homes and help restore effortless interactions with nature in daily life.
Hope you got some cool ideas. Tag us in your photos @daisylife.in and #daisylifehomes 
____________
Read our blogs on NATURAL HOME DECOR for simple tips & tricks with natural material products!
____________
Sign up to our newsletter here to stay updated on new products, recipes, stories and using natural material products in daily life
Connect with us on Instagram: @daisylife.in to DM your photos/ tag us and tell us if you try these ideas for your homes or just say hello.