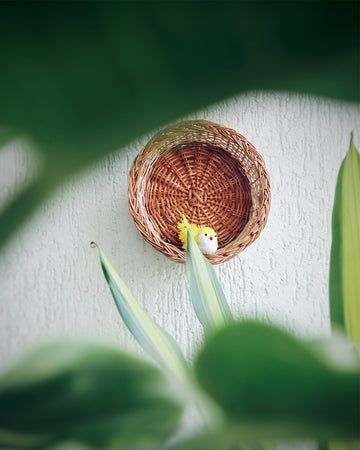 The sunlight, the scent of summer, and the gentle summer breeze... summer is all settled in and it makes us want to give a hint of that summer feel to the empty spacy walls around the house and wall décor with wicker and bamboo baskets are the perfect fix for this pickle.  
The trend of using wall baskets for décor has been around for decades. It started in the early 1930s and is still fresh as a blooming Daisy ;) in a grass field till today. The trend has been all the rage in home décor and people can't seem to take their eyes off. The trend still never died out and is the perfect way for utilizing all those gift baskets that you simply cant stop buying.
"Behind every attractive room, there should be a very good reason" - Sister Parish

What better reason for decorating and remodelling the walls of your house than the feels of the season that come in with the summer heat! Today we're talking about how you can give the walls of your living space that summer vibe with natural earthy home products using wall baskets. Here are some cool arrangements for your gallery walls this summer.
Summer Wall Basket Décor Arrangements for different spaces in your home
Wall basket décor can be used almost in any space around your house right from the entry to the washroom while even being functional in its own way.
1. Foyer Wall Baskets Décor
"Field of daisies" Gallery Wall baskets Set
This arrangement at the entry just overflows with an aura that says "welcome home"... and combined with a plant by its side and photo frame it's the perfect first impression a house leaves upon the guests, making them feel that they're welcomed in a warm and friendly way. Having a wall décor like this is also functional as a key holder and a space for your shopping lists so that you don't forget them on your way out.
2. Feature Wall Baskets Décor
 "Constellation Aquila" wall Baskets Set
This one was solely inspired by the cluster of stars seen in the summer night sky as I wanted to add the same pleasant feeling I get when gazing upon the night sky. This DIY art installation is a statement for the center wall in any living room and a conversation starter that can lead to the most interesting discussions. You can turn any space into your favorite hang-out when hosting guests and having house parties with this feature wall.
 3. Balcony Wall Baskets Décor
 "North Star" Gallery Wall Baskets Set
A wall basket décor in the patio was a splendid combination giving a farmhouse feel and paired with little handiwork crafts, flowers, and plants it definitely passes the vibe check for summer. The fresh feeling of summer sits right in with this décor arrangement and helps you feel relaxed while you look around your balcony sipping on a cup of tea or coffee.
 4. Bedroom Wall Baskets Décor
 "Field Of Daisies" Wall Baskets Set
Often the walls in the guest room are empty or have some cliché wall paintings or neutral photographs. This piece of wall décor using handmade baskets combined with a photo frame is a refresher! It makes the space interesting and easily sets the vibe for your guests to feel completely relaxed, at home, and yet on a break.
5.Bathroom Wall Baskets Décor
"Spa Suite" Gallery Wall Baskets Set
Hanging baskets in your bathroom are more than just décor they're completely functional as well. Use them as a space for toiletries such as essential oils, towels, add a few loofas and it gives off a spa and relaxation feel to bathroom walls making it out to be nearly a spa suite at home to indulge in every day.
6.Book Corner Wall Baskets Décor
"Trio" Gallery Wall Baskets Set
So maybe instead of going to the beach or the spa, you love reading … this is one for the book lovers! are you a bookaholic? if so you're gonna love this arrangement. A simple wall décor that you can have around your reading corner. It's a décor plus bookshelf for when you have a stack of books of your favorite series lined up that you're waiting to finish. 
FOR DISPLAYING YOUR PAINTINGS, PHOTOS, NEEDLEWORK AND CRAFT 
Here are some tips and DIYs are always better when you wanna bring out your wall basket décor to grab the attention in the room or make heads turn to give a second glance and maybe even a closer look at your DIY installation.
1. Painting
 "Field Of Daisies" Gallery Wall Baskets Set
Remodeling wall baskets with a bit of paint or by adding a painting in between the design can give the wall décor you're going for a fresher vibe and a pop of colors to give it a more vibrant look. The more creative you are with a splash of colors the better. Don't hold back on your artistic side when combining the wall baskets with a bit of paint or a frame of your painting.
2. Add in your handiwork
 "Field Of Daisies" Gallery Wall Baskets Set
Have you picked up a new hobby? maybe knitting or sewing? showcasing all of your works by putting them up in the wall basket décor is creative and can give a rustic, modern boho or even a chic farmhouse look to your wall. 
3. Natural props
 "North Star" Gallery Wall Baskets Set
These wall basket décor and plants were simply destined to be put together. A bouquet of flowers, planters, or even little pinecones in the baskets of the wall décor pair well. It's almost as if I don't want to ever leave the patio. They give off a more calming aura and feel like a brief moment under the sun which is perfect for this summer.
With these wall basket décor arrangements, I completely felt the summer breeze trickle down my soul making me feel at peace with the season's changes.
Did you fall in love with our range of wall basket décor for summer? Share with us your designs, styles, and décor ideas done with our baskets in the comments section below.
Sign up to our newsletter 
here
 to get updates on new baskets and offers.
Connect with us on 
Instagram:
@daisylife.in
 to DM your photos/ tag us and tell us about how you used them, get décor ideas from basket lovers or just say hello!


Want to know how to put these wall baskets up easily? 
Read our blog - How to put up gallery wall baskets?