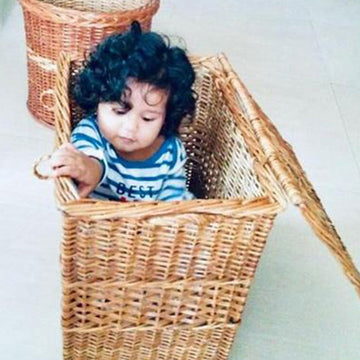 It's early morning about 6 am and I sit in my balcony slowly sipping a beautiful moka pot brewed coffee from KC Roasters (my last stock picked just before the lockdown started, the natural rich cocoa flavour is delicious!), enjoying the morning peace as I eye my eight year old money-plant creeper to see how they are climbing all over the wall when my eye wanders down to the evenly woven wicker basket planter. It has weathered all the seasons over the last couple of years but holds strong, glowing as the sun rays fall and my thoughts deliberate over it's roots...
Wicker Planter in my balcony
I remember seeing these from when I was about 6 years old and my father started working with the skilled craftsmen from Kashmir to sell in Pune. They have since been a distinguished range in our products. The demand, beauty and charm has only grown and today, as we look at making a tighter product portfolio to sustain the uncertainty of Covid-19 economy, the wicker baskets confidently demand a strong foothold.
You have not heard of 'Keani Keam', but you have definitely seen the wicker baskets from Kashmir! These wicker baskets are rooted in the heavenly valleys of Kashmir, where locals call this craft - 'Keani Keam'. 
The raw material to manufacture wicker baskets comes from the willow vines, and the best climatic conditions to grow the Willow is Ganderbal District and around, in Kashmir province, India. 
Basket weaving is one of the well established industries here. The origins are not definite, some claim it's from the European countries, and others that it originated in Egypt. Nonetheless what is definite is that it's completely handmade and 100% natural.
Interwoven with the daily lives of the locals, these have travelled since ancient times, served its purpose in all ages, travelled to cities and modern lifestyles and has almost supernatural properties in various forms!
Below a worker brushes the baskets thoroughly to make them shine for a client
Haven't we all seen these baskets at multiple places? It's seen in almost every home, a must buy for the new place you rented when you moved out on your own, in the local bakeries, five-star hotels your favourite restaurant, everybody has got a gift basket at least once in their life and it seems to have been around forever! 
There are designs that are being used for decades and beautifully adapted over time & lifestyles.
The picnic basket is now used to carry your pets around comfortably.  
They can be carried to parks, pet clinics, cafes in these cozy baskets. Easily breathable, they find it warm and stay in comfortable for longer time. These baskets 
can carry bulky material in spite of themselves being very lightweight. Earlier they would be a part of everyday chores to transport heavy material in hilly areas of Kashmir.
.
.
.
Here is Katniss  @kweenkatnisseverdeen a.k.a Puchki . This is her favourite place!
.
 2. Long term Storage baskets to Lifestyle storage
There is an interesting relation between water and natural Willow wicker. It has its properties of being water-resistant, and also gets stronger when it comes in contact with water. Hence these could be helpful as a sieve for washing fruits, vegetables or the likes. Washing these willow baskets with water and sun-drying them adds on to their durability, just like a living plant!
Below are baskets soaked in water to improve strength and colour
Moon basket is one of the oldest designs and still one of the most popular ones. Used now in modern kitchens to store dry vegetables, fruits. Can be easily kept inside the refrigerator as well to keep the vegetable separate, organised & visible.
Coffee Table basket- Katniss is usually found lounging in some wicker basket 
.
Personal Care Baskets

- bathroom accessories 

in a low height round basket tray 
.
Personal care caddy

 :  Spa basket with rolled towels, combs, earbuds, massagers
Tissue basket at the Ladies washroom, Taj Lands End 
3. Display and Food serving baskets in cafes and bakeries
These baskets are heat resistant too. They were traditionally used to carry smoldering coal for locals to warm themselves up during harsh winters in the valleys of Kashmir. In today's times, we can use them to keep warm or hot bakery items and breads. Looks lovely and keeps the warmth intact, without making food items soggy. 
Roti Naan served in Wicker basket in a restaurant
.
 Window display at The Body Shop
Counter display for water and juices in an Oval Wicker Basket at Starbucks, High-Street Balewadi
Bread baskets for window display at Indigo-Deli and Inox, Phoenix
.
4. Fruit basket to Gift basket
What makes these wicker baskets so loved by all? Be it home decorators or hotel interior designers, corporate gifts to personal gifting, flowers to pets… everything feels more special in a basket. We feel special and love getting a basket!
Starbucks X'mas gift hamper basket, Nariman Point 
Flower and gift display basket, online photos
Daisylife basket packaging
Is it only about how gorgeous they all look? Is it the even weaving that lends its calm? Is it the strength that holds? Is it the the material, the colour, the texture that adds the warmth? Or is there more to it!?
100% natural, earth and human-friendly, wicker baskets are versatile keeping up with the modern lifestyles and the fact that these are handmade, utility driven and value for money adds higher appeal.
These baskets center around simplicity. No harsh chemicals, no machines. Simply woven with willow wicker, hand skills taught over generations, the little details, time and warmth of nature.. they bring a feeling of calm in our fast paced city lifestyle, serenity of the woods, overall feel good vibes and a little thought - do good, live well!
Decide which basket you want here while you think about why you love them so much :)


________


The Roti basket is one of our favorites, because it stores breads and
Rotis

 
in their best form! At least that's what
the proven wisdom of
 Aaji

 
(granny) says! 

Sign up to our newsletter 
here
 to get updates on new baskets and offers.
Connect on 
Instagram
 to share your photos and tell us how you used them, get decor ideas from basket lovers or just say hello!


Want to read more, check these blogs out -