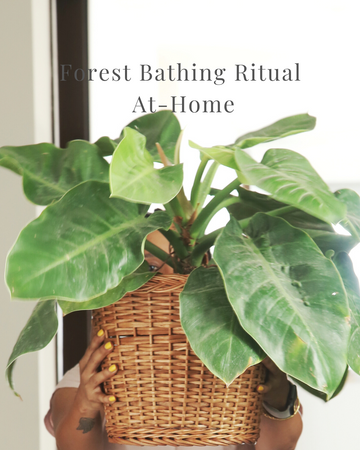 "Forest bathing" also known in Japanese as shirin-yoku the term came about in the 1980s. It means to take in the forest atmosphere. The ecotherapy exercise states that time spent immersed in nature is good for us. 
Shinrin-Yoku, or forest bathing, is the practice of spending time in the forest for greater health, a strengthened immune system, happiness and a sense of calm. A pillar of Japanese culture for decades, Shinrin-Yoku helps you slow down and reconnect with nature, from walking mindfully in the woods, to a break in your local park, to simply walking barefoot on your lawn.
Forests have always been magical and known for their therapeutic properties. It has always been believed that utmost healing is found in nature and from nature one can find true growth.
Forest bathing relieves mental stress, burnouts, boots our immune system and helps reconnect with nature. It doesn't necessarily mean that you need to surround yourself in a forest even a walk in a park filled with nature is just as good.
Qing Li, the president of the Japanese Society of Forest Medicine in Tokyo and the author of "Forest Bathing: How Trees Can Help You Find Health and Happiness" (2018), says that incorporating the practice into one's routine isn't all that complicated — there are no grueling moves to memorize, murky tinctures to ingest or mental gymnastics to master — which is part of the appeal. Instead, it's simply about "connecting with nature through our sense of sight, hearing, taste, smell and touch."
He suggests a three day immersive experience of the woods every month or a six-hour day trip once a week for best possible results. However, in the current scenarios and busy city life this is not always an option. An alternative is to create your own forest bathing set up at home to keep the experience of the woods indoor and derive the benefits of a forest experience in your daily life.
Consciously surrounding yourself with materials, textures, fragrances and sounds from nature, naturally creates a fresh and connected environment.
Simple daily routines can be easily enhanced to stay connected with natural elements through the day. 
Consciously feeling the texture of wood when combing your hair with a wooden comb, or brushing your teeth with bamboo toothbrush helps connect with nature right at the start of and at the end of the day.
Natural decor
Using decor made with wood, wicker, bamboo and also adding simple fresh flowers adds warmth and freshness. Aesthetics of Wall baskets, Wicker planters, Bamboo mesh, Bamboo decor add an attractive charm and appeal to the space and look refreshing adding a sense of the real forest life to the home.
Functional products
Using functional options like wicker baskets and bamboo baskets for all types of storage is an easy and practical option to use natural materials effectively around the house. Laundry baskets, fruit baskets, book caddy and other multi-purpose storage around the house look aesthetic and sprinkles natural material in all possible rooms and spaces.
Cooking and enjoying meals is crucial and a favourite activity. Bamboo/ Wooden Kitchenware and Baskets for Serveware instantly increases the interaction with the natural elements in our favourite spaces and meals.
These are some of the easiest ways of adding the woods to your surrounding and naturally increase interaction with nature in daily routines.
Touch is the most tangible way of experiencing and absorbing. A holistic experience can be created as Li recommends stimulating all your senses: Use essential oils with fragrances that come from trees and flowers, listen to bird songs, drink herbal teas and bring plants, potted trees and wooden objects into your living space. Such gestures work in harmony to create a cumulative calming effect while also, as Li says, forming "a bridge between us and the natural world."
______________
Natural interactions with nature in everyday life.
______________
Sign up to our newsletter 
here
 to get updates on
 products, deals, discounts and more such stories
Connect with us on Instagram:
@daisylife.in
 to see natural material products in daily life