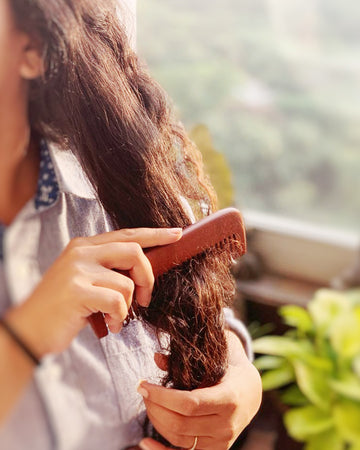 Nourishment serums, hair packs, high-tech hair styling gels and appliances... Sounds urban and modern right?
In a juggle between a whole lot of chemicals which we are not even slightly aware of, there's something simple that we want to put a spotlight on.
Tadaa! WOODEN COMBS they are!
Wooden combs are truly simple products, made from the truest element of nature- Light Wood, Dark Wood. Both come from the goodness of the Beech Tree which has a strong, smooth bark.
These are minimally processed and smoothed to perfection for great haircare routines.
Why should one use them? Well here's why...
_________
5 REASONS WHY ONE SHOULD CONSIDER WOODEN COMBS FOR HAIRCARE:
#1 CARETAKERS OF YOUR SCALP:
Wooden combs with buffed tips would never hurt the scalp skin. Plastic/ sysnthetic combs are harsh on the scalp, whereas wooden combs help gently massage your scalp with their smooth teeth, and as a result they happen to regulate blood circulation. Try that before sleeping in the night and let us know if the blood circulation helped you sleep better! (It works for us :D)
#2 NO STATIC HAIR | NO BREAKAGE:
It was fun in the childhood when we all played in school with our plastic rulers creating static electricity and making the hair strands all dancy, or similarly played at home with the plastic combs too.
Guess its not that fun when they take away the natural textures and moisture while creating that static electricity around your hair strands and make it look all frizzy. Plastic combs do that to you (your hair).
But wooden combs are different. Due to their wooden properties, unlike plastic combs, it's a static-resistant product which does its best to avoid hair breakage, hair fall and hair loss.
They let your hair be, with its own identity of bounce, texture, natural healthy softness and shine. 
 #3 ON THE GO HAIRCARE:
Let us sound urban again.
'Waking up in the morning, rushing into that 9 am metro to catch the morning meeting at 10 AM.'
Where's the time to sit and do your hair care routine in this hurry-burry? 
Here's where wooden combs fit into the modern day routines. All you need is 30 secs of wooden combing pal! No static hair, just a smooth, quick combing that takes care of your hair texture even if you comb faster than the usual.
Also, slide them into your bag or clutches and you are all set to do the haircare routine while you travel outstations or during your regular work days.
An everyday use of these natural material products into daily living brings home the much needed balance and goodness of nature, which we tend to skip seeking, in our everyday chaotic city life.
#4 HAIR-FRIENDLY, EARTH-FRIENDLY:
Great care-takers of the hair, but also of the planet. These are made from 100% natural single piece sustainably sourced Beech Wood. They do not undergo any harsh chemical processes. They are Biodegradable, Anti-bacterial, BPA- free. 
Unlike synthetic combs, wooden combs are made from nature... hence they easily can go back to nature!
 #5 FEEL GOOD:
Not much to say there... Wooden combs just feel real and smooth to touch. It feels great on the scalp. It all feels like a part of us, not something foreign to the skin and gives a feeling of being good to yourself and overall well-being. 
Tell us when you try?
We say, wooden combs treat hair like grandma's hair oiling sessions.... the gentle massage, carefully and with lot of love and nourishment!
These are real underrated personal care products that are so easy to readopt and ensure simple ways to be good to oneself. A simple switch from a plastic comb to a wooden one can benefit the health of one's hair and over-all well-being in many different ways!
_________________
What do you think about this super cool urban haircare natural material product?
Write to us in the comments below....
__________________
Shop handmade, natural WOODEN COMBS
Shop natural material baskets, bags, home decor for everyday use on www.daisylife.in
Read our latest: HOW TO CLEAN WICKER BASKETS & Other blogs from DaisyLife DIARIES 
Follow @daisylife.in on Instagram to join us in this journey of making natural material products a part of our daily life in the new/ changing lifestyles.