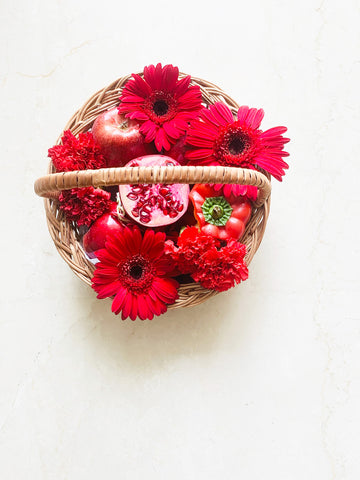 Put in their favorite cake, dessert, drinks, snacks, some cutlery and napkins, and a speaker for some lovely music...
One of the most joyful thing to see is a pup or kitty with its head titled on one side and eyes peeping at you from a basket, with a little red bow on it...
Imagine that!
Isn't there so much love in this #AllTimeFav drink! :D
A basket full of different kinds of coffee in a warm basket, all set to bring a big wide smile to your coffee lover buddy!
You can also complete it with a nice coffee cup, couple of cookie packs, and roasted nuts besides it all. 
Vday is changing its definition through recent times. Its slowly shifting from being a couple's occasion to a larger perspective of love and affection one feels for the near and dear ones. 
Natural baskets and soft toys together make it all so lovable isn't it?
Gift-tie a basket full of soft toys to the little ones you love and see them dance with joy! Natural baskets bring in a gush of delight to anyone receiving it.
A table of favorite food served differently!
Well this one isn't the usual 'tie it with a bow' kinda basket.
Set the table with a range of natural material baskets with everything that's favorite to your dear one/s.  
How would you use a basket to make it special for your people?
Comment in the section below, or DM your suggestions/pictures on our @daisylife.in Instagram handle.
Brb, penning down another idea that just popped in the head! :D
______________________________
Read more:This is LOVE & Other blogs from DaisyLife DIARIES 
Follow @daisylife.in Instagram to see more of natural material products for daily use.
Shop natural material baskets, bags, home decor for everyday use on www.daisylife.in