Conscious Living
A GUILT FREE GIFTING SEASON- 6 super sustainable bamboo festive packaging ideas!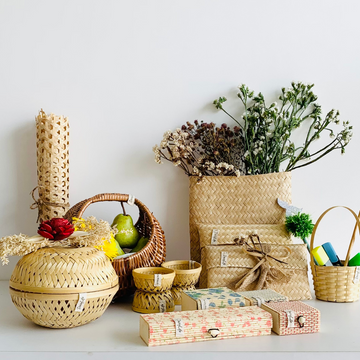 The gifting season is here and so are we with our ingenious ideas about how to save a guilt trip from sending across your gifts in single use non-biodegradable packaging!
What's more is that these aesthetically vintage packagings are here to stay long after the festive season is gone! 
1. Rustic bamboo envelopes: There's nothing that can beat the charm of gifting that bookworm in the family a book packed in this handwoven bamboo envelope! Also a great way to gift cash for festivities or weddings, these envelopes get innovative and charmingly amp up tiny nooks and corners later on.

 
 2. Moon basket- Isn't a basket full of love and joy something we would enjoy sending across our neighbours? Bring back the fruit culture this festive season as you meet & greet your friends with this basket full of health! We have to warn you though, more often than not the receiver falls in love with the moony packaging more than its content! Cheeky? Yes, but true!
3. Hamper basket- It is the time of the year when we are feeling abundantly joyous and want to share all the overflowing love with gifts & goodies. Sending across well curated sustainable baskets that act as storage later on is the best we could do in 2021!
What's more is our loved ones feel extra joy as they use these rustic baskets for storing their knick-knacks for seasons to come.

4. Little laddoo buckets!: Aw! Aren't these yummy to look at? We bet the laddoos will be over the minute you gift these insanely adorable handwoven buckets! Cherry on top is that the cute bucket will quickly find its place on a window sill with a money plant or on the kitchen platform storing neatly tiny tools!

5. Mesh Gift wraps: We all like it neat, no? The mesh wraps up the bunches of flowers, the champagne bottles or okay, literally any gift we plan to give our loved ones. A quick handwritten note adds all the happy nostalgia required to bring smiles on the faces we cherish.

6. Bamboo boxes: Thinking out of the box is what this box does! It presents your gifts in the most sustainable methods and becomes a keepsake of your love with its multi-utility attribute. Gift it or get yourself one to store all your fine charms in one place!
Gifting is joy, it is love, it is an ancient ritual that is almost sacred and so is the art of eco-friendly packaging. 
For all joy that is shared by the giver and the receiver multiplies manifold with the guilt-free vintage inspired natural packaging's that will last many festive seasons
_______________ 
Shop reusable, natural Gift Packaging
Read more: Bamboo gifting envelopes & Natural Materials for Gift packaging
 Follow @daisylife.in Instagram to see more of natural material products for daily use.