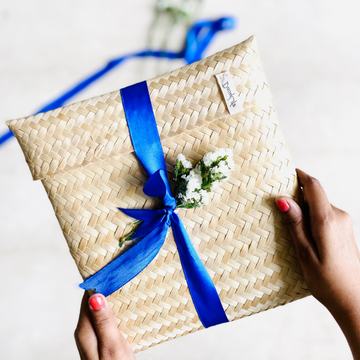 "Life is a festival, only to the wise" - Ralph Waldo Emerson
Articulated ever so correctly, let's be wise for Waldo and celebrate life like it's a festival every single day!!
We have brought to you this unique way for adding more zing that too sustainably to this very celebration of life. Gifting is the most anticipated, most welcomed part of festivities big and small! And often while we love the gifts we are disheartened by the huge chunk of waste that their packaging makes. Worry not buddies, we got your back with our very sustainable natural packaging envelopes!
These purely handmade bamboo envelopes keep the whole process eco-friendly yet romantic. Be it gifting your cousin or niece a book encased in this  or keeping a love letter neatly tucked in it and leaving it as a surprise for your partner under the pillow (see more gift ideas for your partner) ,or gifting your father a curation of hand-picked stationary from your travels (see here other gift ideas for your father), these envelopes will keep it more charming! We promise! 
Re-using these in home-décor is as easy and fun as using these as packaging. Bamboo in this natural finish provides ample room for ideas that serve to make charming home-accents out of these.
Gifts are joyful, mindful and filled with love then why shouldn't the packaging be the same? That is what our bamboo envelopes mean to say!
How to give money as a wedding gift? 
Handmade solely for the purpose to remove the problem of one-time packaging that adds to the humongous waste created in the festive season, these have got a vintage charm that makes these the best option to gift cash in weddings. While they save paper waste that comes with the shimmy-shammy paper envelopes, these cuties also add a curiosity to gifting cash!
Gifting money is old-school yet an effective method to save the receiver from getting non relevant gifts and also use the cash as per their convenience (see here 4 thoughtful gifts to give and receive) ! We only added a dreamy way to do so, putting that wad in these bamboo envelopes simply keeps it chic.
Add a handwritten note to put your personal touch for your loved ones and a dried flower or two if we may suggest that!
Tie it up with a jute ribbon, add a flower or a wax seal in fact! Voila, the cutest ever money envelopes are all yours to gift!
P.S. do give it, don't keep it to yourself seeing how lovely it turns out to be! We got many, you can always get another for you!
_______________
Shop reusable, natural Bamboo Envelopes 
Read more on gift packaging and gift ideas below:
Natural packaging ideas for  A GUILT FREE GIFTING SEASON
Why Natural Materials for Gift packaging is a good idea?
Follow @daisylife.in Instagram to see more of natural material products for daily use.