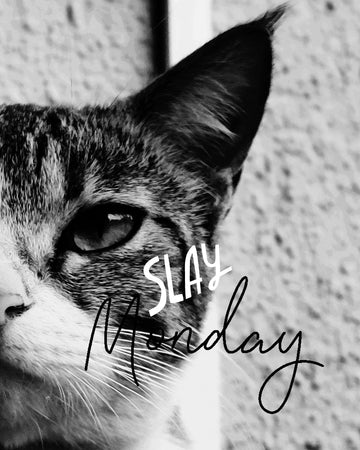 After the fun-filled and relaxing weekend is over then comes Monday a new beginning to a new week and a fresh start.
We love Mondays... coming back to work on our dreams, our passions, things that inspire. The opportunity and privilege to be able to follow one's heart, to pursue goals, to get to live! We're filled with energy and are on the double with the motivation to work.
We've put together a list of all the things that help us #SlayMondays DaisyLife style!
1.Magical Morning Brew

A mindful morning with a jet black brew made with our favourite coffee blend, sipped amongst the plants in the balcony, while looking at the sky and soaking up some sunshine...
Our fuel for the day- a little bit of nature and sunshine brewed with coffee has us on our toes refreshed and all hyped up to start the week! The perfect kick for the first day of the week and the best way you could start work everyday. A simple magical brew to enjoy your morning and set the right tone!
2.Ready To Take On The World

A positive mindset and an attitude to take on challenges are how we start our Mondays. Looking our best and feeling great to pursue what lies ahead puts us in a headspace where we're all ready to take on the world and with #FullPower 
3.Pick Your Song

Jam out to your favourite song or make a playlist or two of your favourite artist set the rhythm for work. A playlist you like will have you motivated and hyped to get your tasks going and before you even know it you're halfway through! Listening to our favourite songs always makes us feel great. One of our favourites these days is Summer Days. Do you have a go-to Monday song?
4.Work buddies

At office, we have our adorable and absolutely dope four-legged friends... Yes! they're cats! Our buddies Puchki aka Katniss Everdeen and Gunda are a key part of the team. Their visits fill the office with smiles.
Did you know? Studies prove that pets have calming effects, reduce blood pressure, lower stress, and make employees more cordial and productive.. (Reference : 2012 VCU research paper )
5.Checklist

Putting together a to-do list for Mondays can help start the day focussed on the tasks at hand. The feeling of striking down each task is not only fun but also triggers the brain with a sense of accomplishment which makes Monday's feel super easy!
We've gotten the "Monday Blues" out of our dictionary. We now in fact look forward to each Monday full of energy waiting for us to claim the day!
What are some of the little things that make your Monday beautiful?
What are your Mondays like? Do you #SlayMonday? Share them in the comments below.
_________________
Sign up to our newsletter here to get all our latest updates.
Follow @daisylife.in to see natural material products for daily use.
Shop natural material baskets, bags, home décor for daily use on www.daisylife.in