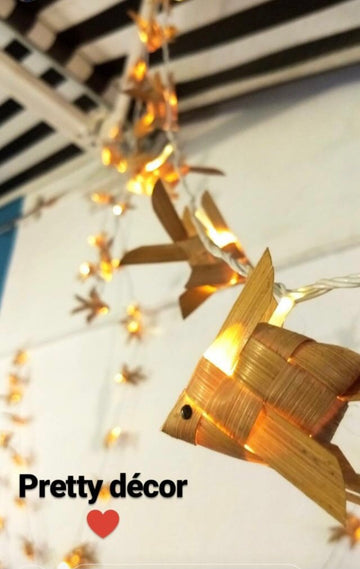 We put them on fairy lights and it was wonderland! For all of you who love all types of creatures, adore animals and the first to spot anything animal prints or shapes, here's a DIY for beautiful string of fish fairy lights you will love to hang around.
Each piece is hand made with natural bamboo strips, they look so simple and amazing. Use them for gift tags, make curtain ties, hang them as simple decor, lots of ways to use them. 
Here is how we made the fairy lights. Put them up in your room or your kids and it will take you to a place where all the wild things are..
What you'll need?
A string of fairy lights from the hardware store or use the ones from your Diwali and Christmas decorations. The ones with the

really tiny LED

bulbs. You can use yellow for a warm hue or white led to get the starry twinkling look.
Bamboo fish. One for each bulb in the string.
Glue gun or Fevicol.
Steps
1. The bamboo fish are matted. Loosen one fin and stick the bulb inside
2. Close the gap with glue gun or fevicol so than the bulb doesn't come out
3. Do this one by one for all the bulbs
You can also make curtain ties with these. Do you have any more ideas? Do share.
______________ 
See animal decor and more
here
Taste the flavours of nature with recipes from 
Cafe Daisy
______________
Sign up to our newsletter 
here
 to get updates on
 products, deals, discounts and more such stories
Connect with us on Instagram:
@daisylife.in
 to see natural material products in daily life