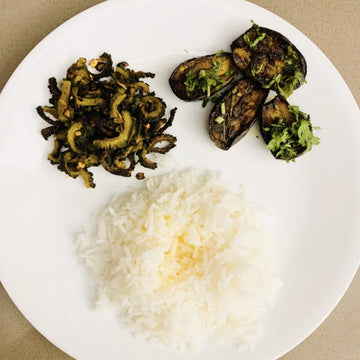 Not the vegetable of choice, it's surprising how the biggest difference between people who eat the bitter gourd and people who don't is one simple fact.
Did you eat it while growing up? If your mum has pushed it down your throat or come up with various innovative recipes to make it a friendly gourd and though you may have detested it for as long as you remember... there will come a time in life when you will go back fondly to this buddy. 
An acquired taste, this is a popular vegetable in Asia which seems to be disappearing from the table in modern families. 
Packed with nutrients and known for all its health benefits, this is a vegetable you don't really want to see extinct.
So with all our hopes up, we have a simple dish here to keep on your lunch table and maybe get a bit more familiar with. Introducing this to children at an early age makes it easier to develop the finer taste buds.
Ingredients:
Karela/ Bitter gourd - 2 pcs
A pinch of Turmeric
A pinch of sugar (optional)
1 Tbs Ghee
Salt to taste
Prep:
1. Chop it into small slices. You can keep the seeds if its young/ tender and not very hard
2. Add a pinch of turmeric, sugar and salt. Mix well and set aside for 15 mins
3. Heat the pan and add ghee
4. Once ghee is hot, add the karela and let it fry on high for 2-3 mins or till it turns slightly brown.
5. Slow the flame, cover the lid and let it cook for 10-12 mins
That's all.
Serving tip: Serve with steam rice, with sprinkle of ghee & salt. This should be eaten first in the meal. The bitter flavour enhances the taste buds and makes the rest of the meal more tasty.
______________
______________